Halle Berry Launches New First Perfume Fragrance. Halle by Halle Berry. Photos.
Halle Berry's Super Scent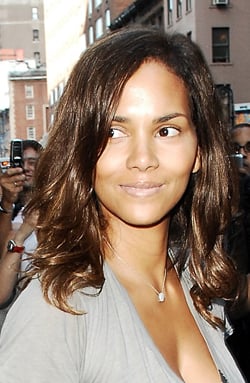 Another day, another celebrity perfume is launched. At least that's sometimes how it feels as everyone from Kate Moss to the Hollyoaks girls have come out with their own scent. Now Halle Berry is apparently joining the team.
My American counterpart Bella US had sniffed out the news that a scent might be on the horizon for Halle way back in February, but today Halle has confirmed the news.
"Fragrance is something I've wanted to do for myself," Halle told WWD, "It's a real, true expression of who I am — I was involved in all aspects of making it. It felt like it was the right time in my life to take it on, and Coty's been a great partner to do that with. I hope this is the first of a number of fragrances."
Halle certainly seems to be very involved in the perfume, from making the actual scent to helping to design the bottle. Her two favorite notes of fig and mimosa are included in the final scent, as is olibanum, an African root to bring spice and sandalwood. Halle describes it as "very sensual, very natural, very much reflective of the outdoors."
For a breakdown of the perfume's smell plus the lowdown on the bottle, just read more.
The top notes of the perfume are Sicilian bergamot, pear blossom and fig leaves; the heart is freesia petals, hibiscus flower and ultra mimosa, and there are base notes of sandalwood, cashmere musk, olibanum absolute, driftwood and sensual amber.
The sophisticated bottle is a glass rectangle with a wave-textured back that is meant to evoke the beach. The neck of the bottle is a pretty rose gold colour in a bangle design, whilst the juice itself is also tinted a rose gold shade. "I wanted the bottle to fit well in the hand," Berry said. "For me, if the bottle is too clunky or cumbersome, or too small to grab, my experience with it isn't as pleasurable. This is easy to hold, easy to spray and it's something that's simple.... it's beautiful and elegant."
Halle by Halle Berry will roll out in March in the UK, US and globally. Like it's namesake, I'm sure the scent will be intriguing.
Source