Halloween Makeup Can Be Bad For Skin
Skip a Skin Scare by Avoiding These Halloween Makeup Products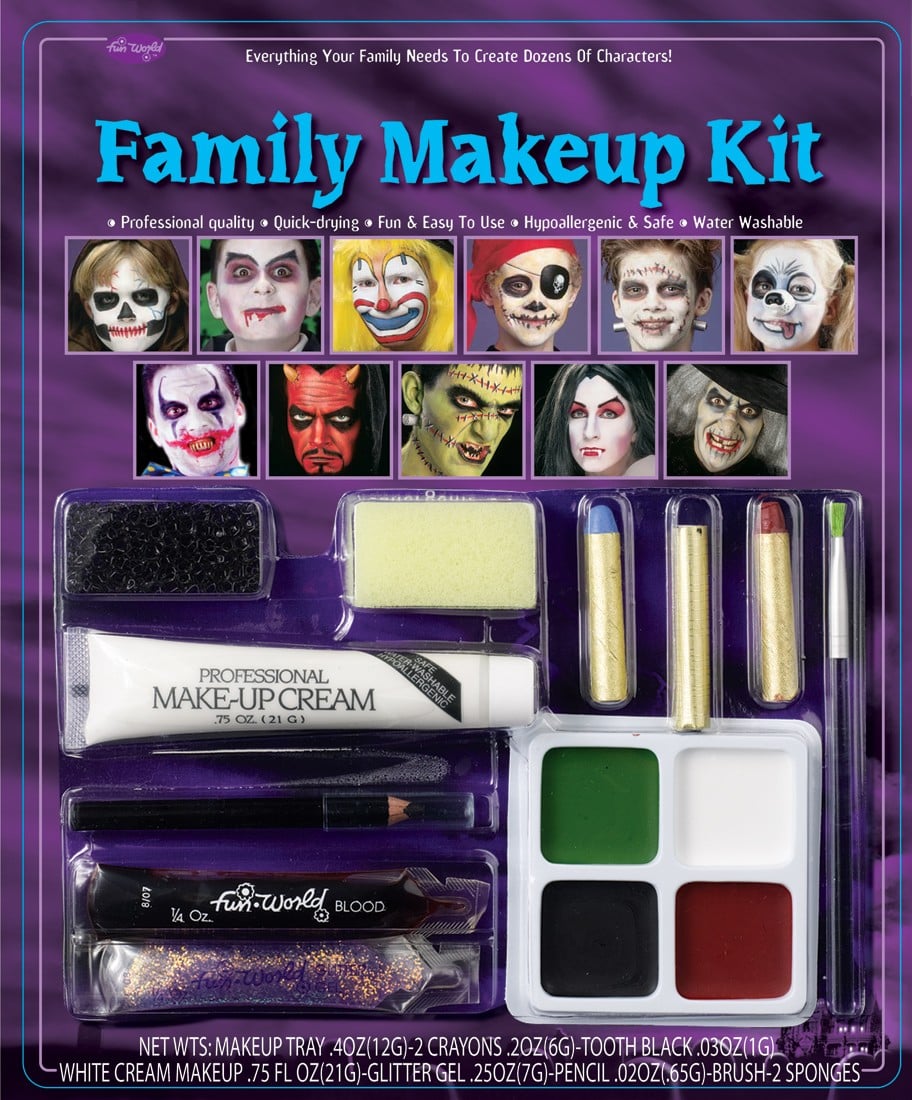 As a woman who loves Halloween more than Christmas, my skin has seen its fair share of horrifying moments. From prosthetics to cream makeup and everything in between, if it helps create the character I'm going for, I'm probably going to use it. But that doesn't mean my skin stops being scary after I remove the cosmetics.
I buy professional-grade theatrical makeup that is made to be safe for the skin. But it's hard to avoid picking up that paint set at your local drugstore when it's only £4, right? The thing is, it could actually be terrible for your — or your child's — skin.
Asia Vereline, master esthetician and general manager at Joanna Vargas Salon Los Angeles,
and celebrity esthetician Biba de Sousa explain how your Halloween makeup look can wreak havoc on your skin along with some alternatives to try instead. And if you still need makeup inspiration, check out our gallery of easy Halloween tutorials.
Cream Pigment
Those packs from the drugstore may be cheap, but consider how long they might have been in the warehouse. "Since it's a strictly seasonal item, it probably sits on the shelves at the Halloween headquarters for few years, and no one questions it," said Biba. They also have very little pigment, so you might not get the payoff you're expecting, either.
"They are baked on a low temperature and have low-grade ingredients that melt, and those ingredients will irritate the skin," she added. "So it's a double losing situation: the special-effect makeup not only looks bad, but it also disappears or gets misshaped quickly and stings and burns the skin."
Asia agreed when it comes to the ingredients. "Most Halloween makeup from the drugstore can have added colours that are not FDA-approved and waxes and oils that can clog your pores."
In addition to checking the FDA website to make sure the ingredients are safe, test a patch of makeup on your wrist or behind you ear to gauge if you'll react adversely or not. When it comes to picking a good cream, Biba suggested Kryolan Professional Make-Up, which is noncomedogenic; according to Asia, you can also use a primer to act as a barrier between the product and your skin.
Glitter
Glitter can go from zero to 60 real quick. It may seem obvious, but always go for cosmetic glitter, because it's made for your face. Craft glitter is pretty, but oftentimes the particles are large and sharp, which doesn't bode well if it ends up in your eye.
With the right glitter, Asia said the easy way to apply it to your face or body is to mix it with a bit of coconut oil or aloe vera, both of which are good for the skin. However, if you're putting glitter over water-activated makeup, you might want to skip the oil.
Fake Blood
Fake blood can be extremely irritating to the skin on top of staining everything. The last thing you want to do is attend a party and leave behind a bloody hand print that can't be removed! Instead, make your own fake blood. "It's better than the petroleum-based fake blood at the stores, which will definitely clog your pores," said Asia.
If you want to DIY fake blood for clothes, one option is to mix a red pigment with dish soap. This will help lift the colour out of the costume if you plan on wearing it again (and not destroying it!). For the face, corn syrup and a cut of old red lipstick will do the trick. Try this nifty toothbrush trick to get the perfect splatter.