House of Fraser Launches Apothecary
House of Fraser Launches Apothecary Site
Yesterday it was announced that UK department store House of Fraser has launched a new place to shop for beauty online. It's called Apothecary, and is part of the House of Fraser site but has more of a niche beauty concept where special products for hair, nails, skin, bath, body and mens grooming brands can be showcased.
To coincide with the launch, House of Fraser is debuting their own fragranced body and hand collection called Apothecary (smart cookies). The range will also include scented candles and travel products with bergamot and lemon, hyacinth and freesia scents.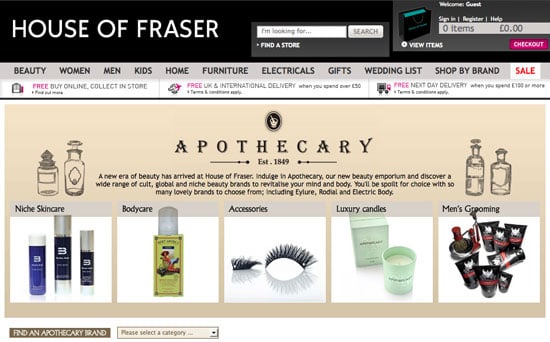 Senior beauty buyer for House of Fraser, Tracy Can Heusden said, "We wanted to create a launch pad area for brands and this was the opportunity to do so. We aim to bring newness to our customer every season and we are already working on expanding our Apothecary Collection for 2011."
I'm psyched that Deborah Lippmann nail varnishes are finally going to be available in the UK. Are you excited about this revised beauty website?