House Of Holland Spring 2011 Beauty
Backstage Beauty: Flushed and Fabulous at Henry Holland
Getting backstage access to the Henry Holland show was a real treat. Although models, editors, photographers and beauty teams were frantically getting ready on a deadline, everyone still looked like they were thoroughly enjoying themselves as they geared up for the 1970's-inspired show. The girls were gorgeous as they walked to music from Studio 54 whilst channeling Brooke Shields' from the 1980 movie, The Blue Lagoon. Their skin was tanned, toned and flushed, as all of the self tanning products came from St. Tropez — natch!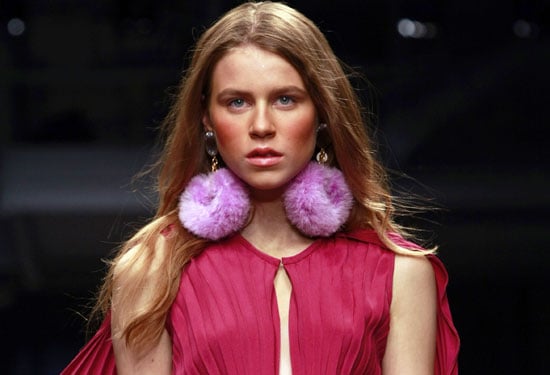 All of the makeup was MAC and the idea was to create matte skin with big brows, bright cheeks and minimal eyes. For details on all of the products used backstage, just read more.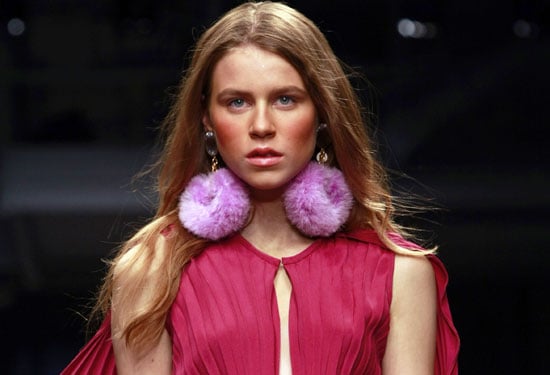 Face: Begin by applying MAC pro longwear concealer under the eyes and to any red or uneven areas. Next, smooth some studio moisture fix and then dust a layer of mineralise skin finish powder over the skin using a fluffy brush. The most popular shade backstage seemed to be medium-dark.
Cheeks: Brush a touch of dusty coral pigment mixed with neon orange pigment (both products are from the MAC Professional range) to the apples of the cheeks and blend well towards the earlobes for a fresh, flushed effect.
Eyes: Curling lashes is a must to create this look. Once you've finished, apply some zoom lash mascara in lofty brown> on top and let it dry. Then, smooth some lip conditioner (in a tube) on the lid and fill in brows with a impeccable brow pencil topped with some clear brow set gel to give them a touch of structure.
Lips: Last but not least, add a dab of the same lip conditioner that you used in your eyelids to your lips and you are runway ready!