How-To: Claudia Schiffer Opts For Casual Makeup at Chanel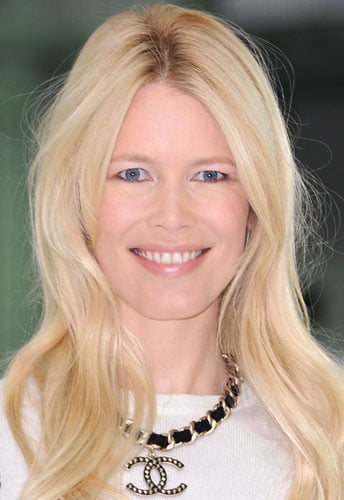 After the big Chanel finale, I caught up with the fun filled beauty team and was so happy to finally meet two out of the five famous makeup artists from Chanel. First was Angela Levin whose work on Jennifer Aniston and Sandra Bullock you might be familiar with, and then there was Fulvia Farolfi.
Fulvia has been working with Claudia since she first began modeling and describes her as "kind, well mannered and wonderful." She opted for a casual face today since her attire was quite casual too.
To find out which Chanel makeup colours Claudia was wearing yesterday, just read more.
Face: Fulvia began by applying some Chanel Vitalumiere Foundation in Diaphane all over Claudia's face.
Cheeks: Next, she dusted a little bit of Chanel Loose Powder, Joues Contraste in Rose Pétale on the apples of her cheeks to warm up the look.
Eyes: Then, she applied some Chanel Le Crayon Khôl in Brun to the upper and lower lash lines before dusting some Les 4 Ombres in Mystic Eyes (brown eyes shadow quad) over the lid. Lastly, she used two coats of Inimitable Mascara in Noir on Claudia's lashes.
Lips: With such a lush pout, all Fulvia used was a light layer of Rouge Coco in Secret on her lips to finish off the look!