How To Apply False Eyelashes
How To Apply False Eyelashes and Have Fun!
Lancome's head makeup artist Armand Beasely and I had a ton of fun talking about false eyelashes. I was surprised to hear that most celebrities wear them regularly either in strips, in the corners of their eyes, or in pieces here and there to fill in their naturally thin and short lashes. I typically think of them as evening makeup, but Armand disagreed, and showed me how to incorporate them into my daily life. He was kind enough to demonstrate (on FabSugarUK) how easy they are to apply, while I curiously watched on and took notes. Here's how to achieve a fun, fake lash look in three simple steps: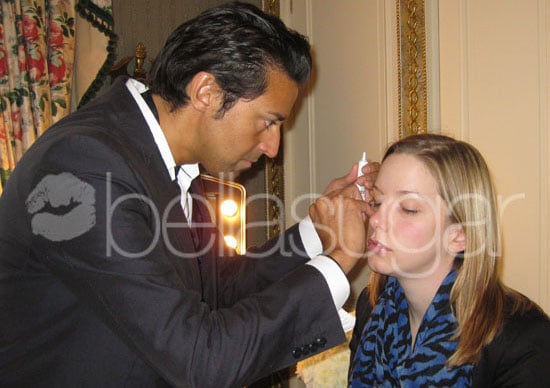 STEP 1: Begin by dropping a small dollop of glue on your hand, and dipping the edge of the lashes in the glue. Wait 30 seconds until the glue gets tacky before you proceed.
For the last two steps, just read more.
STEP 2:Then, in one hand, hold a hand mirror, and in the other, hold the lashes with a tweezer. Look down and raise your brows as though you're acting surprised. Or, you can make a funny face at yourself and giggle — just keep those brows raised!
STEP 3: Lastly, drop the lashes on your eyes and let them dry for 15-20 seconds. Apply your eyeliner over the lashes on the lash line, and add mascara if you fancy. You should be able to get two to three wearings out of each set of falsies, but after that, it's best to discard them.