How To Combat Frizzy Hair. Beauty Glossary and Hair Tips
Beauty Glossary: Frizz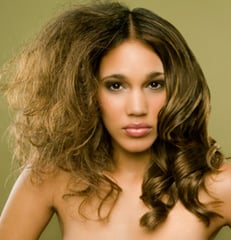 According to the Merriam Webster Dictionary, the term frizz comes from the French word 'friser' — originally meaning 'to curl'. The word was coined in the 1660's and was first used only as a verb whose strict definition is given as "to form a mass of tight curls." Now when we talk about frizz it has negative connotations. Super dry, fried frizzy hair is often the result of genes and over styling. Weather conditions can also exacerbate the problem.
Hair frizzes when it is lacking in moisture or when the outer hair cuticle breaks and becomes weak. A lack of protein in the cortical layers of the hair either due to inherited factors or because of diet can contribute. Stress and illness coupled with a lack of vitamins, minerals and amino acids can also lead to hair damage, split ends, frizz and hair loss.
Annoyingly, frizz isn't only derived from humidity and rain, too little moisture can also make your locks static and split. My girl BellaSugar US suggests that one way to ward off frizz is by using a hydrating shampoo. Also, just going easy on your hair (don't towel dry vigorously and be careful of over blow drying) should help.
For more expert tricks to combat frizz, read more.
If you have naturally frizzy hair then chances are your hair is also curly or wavy. Straight hair can frizz but it's less likely to be down to genetic makeup and more about styling damage. Environmental factors such as sun damage and strong winds can also wreak havoc. The hard and fast rules are try to avoid perming, straightening and colouring if you're prone to frizz. If you're addicted to styling (and I have to admit I'm a culprit) then at least try and have weekly deep conditioning treatments.
Regular trims and using products with natural moisturisers in them, like avocado or almond oil will help to strengthen the hair and repair the cuticle. Avoid over using styling products and stay well clear of those that include alcohol in the list of ingredients. Trying to work with your barnet's natural texture, instead of too much straightening and blow drying will help too. Touching the hair too often, plus over combing and scrunching curls, is best avoided too.