How To Detangle and Condition Afro and Dry Thick Curly Hair: Marshmallow Magic Hair Cure
Beauty Glossary: Marshmallow for Hair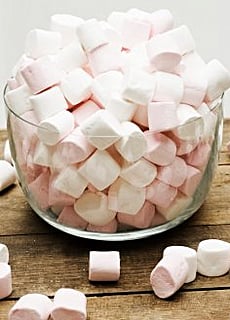 Marshmallows always make me think of winter and roasting them on an open fire (who needs chestnuts?). However, it may come as a surprise to learn that marshmallow is a fantastic hair healer too. This plant is native to Europe and naturalised in the marshes of eastern North America. Much more than just a yummy campfire food, marshmallow contains super vitamins A and C.
Marshmallow is also a naturally conditioning herb that helps to nourish and detangle hair. It's an ideal ingredient to look out for if you have curly, dry or generally unruly hair. For why it's so effective and which products are the best just read more.
Marshmallow also contains natural plant proteins, mucilage (polysaccharides), starch, pectin, phenolic acids, sucrose, asparagine, oil, flavonoids, cellulose, sugar, glutinous matter and phosphate of lime. As a conditioning treatment it's super effective for detangling and adding moisture back to the hair.
For a real hair treat that especially suits afro hair, try a product with plenty of organic marshmallow, such as Anita Grant's Organic Marshmallow Root hair rinse, (£1.90). Not only will you get those nourishing and repairing vitamins A and C, but a rinse will make the most of all those natural plant proteins and oils. Alternatively, for thick, dry or curly hair try Dr Hauschka Jojoba and Marshmallow Conditioner, (£16).