How To Get Cat Makeup For Halloween. Photo of Heidi Klum as Cat Fancy Dress Party
Halloween How To: Cat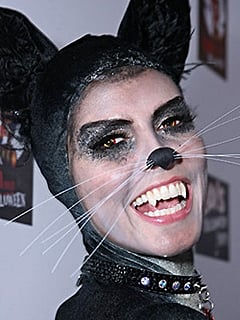 Dressing up for Halloween is lots of fun, but let's face it, most of us don't want to look unattractive or scary for a night out. A witch's cat is a failsafe costume choice for flirty sex kittens and if you don't want to go all out like Heidi Klum did last year, then you can just create feline-like makeup and wear black leggings and boots.
If you're looking for something really easy to achieve, all you need to do is buy a cat mask and wear with dark purple-red lipstick. Personally I think the purr-fect eye makeup is all part of the fun, so follow my easy tips for directions on how to get that meow factor!


For some expert tricks on channeling your inner cat woman, just read more.
Face: Keep your complexion pale as this will help emphasise your dark cat features. Try a matte foundation such as Bourjois Brush Foundation (£11.95). Skip blusher as they'll be enough going on with the whiskers!
Whiskers and nose: Using a black eye pencil draw on three whiskers on each side. Start from just above your nostrils and make the lines go out as far as your cheekbones. Don't worry about making the whiskers too purr-fect, an uneven look will be more natural. If you want, draw an upside down triangle on the tip of your nose with kohl and colour it in. I'd use a pencil eyeliner but you can draw over the line in liquid if you want a glossy effect.
Eyes: Emphasise your brows to balance out the darkness of the whiskers. Try Benefit Instant Brow Pencil (£12.50) and exaggerate the arch for a kittenish vibe. Next, use a pale cream shadow over the entire lid and all the way up to the brows. Finally, take a black kohl pencil and line the upper and lower lashes. Flick the pencil out to the side to create that cat's eye effect. Follow Alexa Chung's lead and go for a winged look for added glamour. Alternatively, make like Heidi and go crazy with the gothic glitter. Try dotting Barry M Dazzle Dust (£4.50) in charcoal around the eyes for a scary puss effect.
Lips: The old beauty adage about only emphasising eyes or lips can be ignored for fancy dress. Go for strong look-at-me red lips. Just a slick of Urban Decay Iconic Lipstick (£12) in Revloution is cool for cats.
Hair: To create two cat's ears first divide the hair into two sections with a middle parting. Next, twist each section around your hands. Aim to create two buns on the top of the head to resemble ears. Pin each bun to the head using kirby grips and an elastic. Add lots of hairspray to ensure your do lasts for a night on the tiles.