How To Get Daisy Lowe Agent Provocateur Ads Hair: Sexy Curls Kate Moss Hairdresser James Brown. Backstage Photos
How To: Daisy Lowe's Agent Provocateur Hair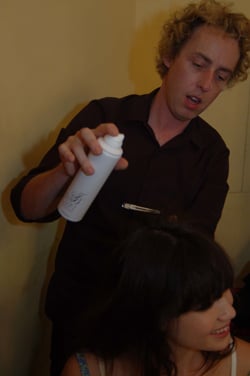 You may be forgiven for focusing your attentions elsewhere when Daisy Lowe and the Agent Provacteur models hit the mirrored runway at the launch of the brand's new eau de parfum, Diamond Dust. However, true to form, my eyes were on the gorgeous hair as the girls sported ultra feminine curls designed to compliment all the womanly curves on show.
Hair maestro and best mate of Kate Moss, James Brown was the man behind the look, referencing the Russ Meyer films of the '70s to create big sexy curls. He says, "Think Jerry Hall in the seventies, when her hair was big, big, big."
For step-by-step instructions on how to re-create this look at home, read more.
For hold and volume James prepped damp hair with the new James Brown Volumising Mousse, (£5.99). Its light, non-sticky texture means its a great backstage tool which leaves hair looking natural while still providing a firm hold.
Next, the hair was roughly dried and then lightly tonged in quarter inch sections using a small barrel tong. Each section was then sprayed liberally with James Brown London Hairspray, (£5.99) for extra hold.
Around the edges of the hairline, James then added extensions for length and volume to create a heavy base. Taking a bristle brush James then 'brushed, brushed, brushed' the hair, pulling firmly from the top to minimise volume on the crown. This ensured all the volume and weight was at the base of the hair.
Hair was then flipped back and sprayed with James Brown London Shine & Fragrance Mist, (£5.99), for instant light-reflecting shine.