How To Get Emily Blunt's Emmy Awards Hairstyle!
How To Get Emily Blunt's Emmy Awards Hairstyle!
I don't know about you, but I'm still recovering from Sundays Emmy glamour fest. It was a much needed burst of red carpet fabulousness following a Summer of celebs on beach holidays clad in casual mini shorts and bikinis. No-one looked more sensational at the awards than our own Emily Blunt who attended sporting a divine lavender Christian Dior dress with glossy 1920s hair set in finger waves. It turns out the genius behind her covetable hairstyle that evening was hair guru Laini Reeves, co-owner of cult Los Angeles hair salon Essensuals. (Who was also behind Emily's recent wedding day hairstyle.)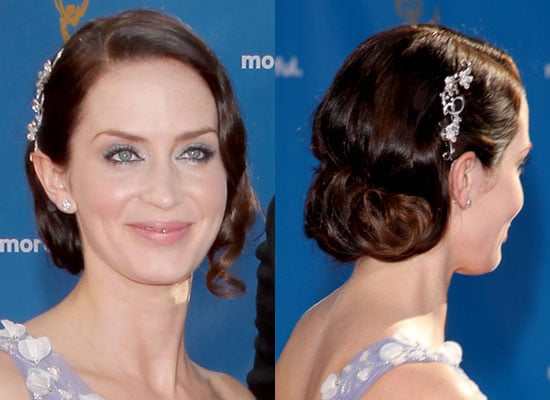 Laini shared details this week of how she created Emily's Emmy awards look. To find out what she said, read more.
THE INSPIRATION: "We wanted to create a look that was very different from any that Emily had worn before," said Laini who worked with hot styling range Moroccanoil for the occasion. "Once I saw the gown, I knew that a modern look based on the waved looks of the 20's was the perfect compliment for the design."
STEP ONE: SHAMPOO: "I first shampooed Emily's hair with Moroccanoil Moisture Repair Shampoo (£13.59) to leave it soft, shiny and well conditioned for the intricacies of styling."
STEP TWO: SET: "After mixing a cocktail of Moroccanoil Intense Curl Cream (£18.60) and the original Moroccanoil Treatment (£25.99), I worked the blend from the middle to the ends of the hair to control ends and flyaways and provide natural-looking, soft hold."
STEP THREE: PIN FINGER CURLS: "I made a low side-part on the right and then pincurled the hair in alternating patterns towards the left and behind the right side. I made the pincurls in the classic way, pinning three alternate rows of of them (anti-clockwise/clockwise/anti-clockwise). I then misted Moroccanoil Glimmer Shine Spray (£17.85) on Emily's wet hair."
STEP FOUR: RELEASE CURLS: "Once Emily's hair had air-dried, I released the pincurls and raked my fingers through her hair. I used a panel brush to keep her hair flat to the head so it wouldn't disturb the root movement of the wave."
STEP FIVE: TIE BACK: "Since we wanted the style to look a bit shorter and also accent the nape of her neck, I created a pincurled, textured effect there at the nape. I finished the look with a quick mist of argan oil-infused Moroccanoil Luminous Hairspray (out soon) to give the hair a beautiful hold without compromising on softness, movement or shine."
Voila! Are you a fan of Emily Blunt?