How To Get Flawless Foundation Like Kate Moss and Dita Von Teese
How To: Flawless Foundation Like Kate Moss and Dita Von Teese
As the days and nights get colder that fresh-faced, just-a-touch-of-tinted-moisturiser look simply won't cut it anymore. It's time to get serious and sort out your foundation. I've found that this is one beauty product that most of us are willing to fork out for, yet it's still tricky to get right.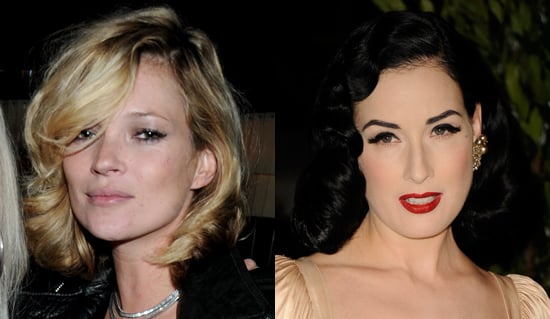 We've all had bad colour matches or sloppy formulas from foundation but luckily the new breed of products aim to put an end to that. My current favourite is Chanel Lift Lumiere Firming and Smoothing Fluid Makeup (£34). It has an SPF15 to protect the skin, plus the fantastic creamy texture means it just glides on. It's ideal if you're looking to sculpt your face and show off your cheekbones.
Whether you prefer a strong look like Dita Von Teese or more natural glow like Kate Moss, there are some simple, yet effective, new rules for applying base. For my expert tips on getting a flawless look, just read more.
The most common mistake is over applying foundation. Even Dita Von Teese who wears full foundation doesn't make it look like a mask. Work with the skin's natural texture and allow it to show through.
These days base is more about adding a sheen to the skin rather than covering everything up. Mix your foundation with a little moisturiser if you want a lighter look like Kate.
When shopping for foundation test a dot on your chest. The colour here is purer than your face (and not so pale as on your neck) and will give a more accurate match.
Always apply foundation quickly and lightly using fingertips. Smooth even strokes will stop the colour looking clogged.
Once you've applied your base dust a little translucent powder over the top, even if your foundation is ultra light. This stops shine and gives that natural-looking glow for which Kate is famed.