How To Get Fresh Faced Perfect Skin. Expert Celebrity Makeup Artist Tricks
Expert Tips for Fresh-Faced Beauty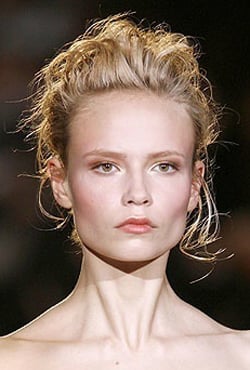 While it's fun to experiment with trends, what we really want is natural looking, fresh-faced beauty that looks like it's just a result of good genes and plenty of sleep. The no makeup makeup look is ironically one of the trickiest to achieve but luckily help is at hand.
To celebrate the launch of Olay's Complete Care Touch of Foundation (£9.99), celebrity skincare guru Anastasia Achilleos and up-and-coming makeup artist Laurey Simmons talked me through their tips for looking beautifully bare-faced.
For an easy way to look fresh and glowing everyday with minimal effort just read more.
Anastasia says "Cleaning your skin daily is the absolute basic rule of great skin." Make sure to remove your makeup no matter how tired you are before going to sleep.
Do home treatments to keep your complexion looking at it's best. Anastasia recommends filling a sink with warm water and adding a few drops of lavender oil. Soak a face cloth in the water and then squeeze it out before laying it over your entire face. Take deep breaths and place the cloth onto your skin. This will initiate the flow of blood to the surface of the face.
Laurey suggests using a light tinted moisturiser as oppose to a heavy base if you want to look young and fresh. Try Olay Complete Touch of Foundation (£9.99) dotted onto the nose, cheeks and forehead. These are the areas that usually need more coverage so Laurey recommends blending lightly outwards for a natural effect. The fine pigments in the foundation help to even out the skin tone.
Try a cream blush for an effortlessly beautiful look. "Smile in the mirror" says Laurey "and apply a dab of blusher to the apples of the cheeks. Blend outwards towards the corners of your eyes using your fingertips." For a co-ordinated look Laurey suggests applying just a touch of cream blush to the lips for a bee-stung style.