How To Get Kristen Stewart's ELLE UK June Cover Avon Makeup
Copy Kristen Stewart's Ladylike Makeup on ELLE UK Cover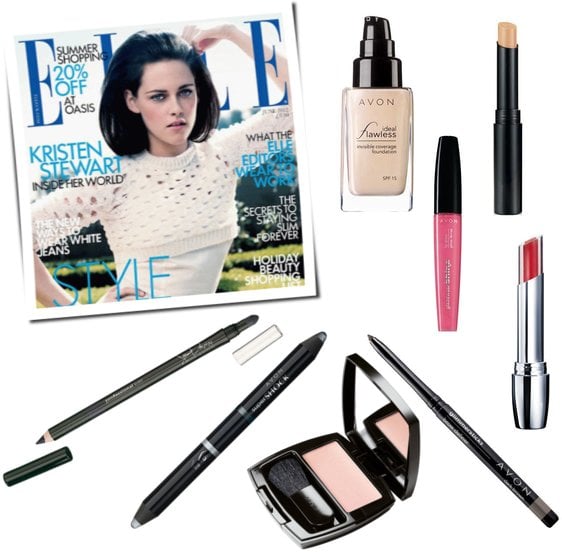 Kristen Stewart is stunning on ELLE UK's June cover, and her makeup artist Jillian Dempsey has revealed how to recreate it. She told ELLEuk.com: "We were going for a lady-like look, rather than an edgy Kristen Stewart, the result was a more refined, clean make-up look." As Avon's Global Creative Colour Director, Jillian's cosmetics of choice are affordable for those not on a Hollywood actress salary too. Step-by-step instructions when you read more.
Step 1: Start by applying Ideal Flawless Foundation in Ivory (£12) with a sponge, then use the Ideal Flawless Concealer Stick (£7) where needed.
Step 2: Dot black liquid liner between the upper lashes to give a fuller appearance. Apply Jillian Dempsey for Avon Professional Kohl Eyeliner (£6.50) above the upper lash line, then use the smudger tip to blend a softer line under your lower lashes.
Step 3: Get on the bold brow trend with the Glimmerstick Brow Definer in Dark Brown (£6) and add layers of Supershock Eyeshadow Pencil in Moonshine and Starry Night (£7) to lids.
Step 4: Slick on Shine Attract Lipstick in Rose Bouquet Rose (£8.50) and finish lips with Glazewear Shine Lip Gloss in Iced Pink (£6).
Step 5: Give your cheeks definition with True Colour Blush in Russet (£6) and you're done!
Shop all the products above, and let me know what you think of Kristen's ladylike makeup!