How To Get Pixie Lott's Smokin' Lipsy Festival Look!
How To Get Pixie Lott's Smokin' Lipsy Festival Look
Pixie Lott is continuing her ascent in the British pop scene, and is doing it very stylishly I might add! I love her platinum blonde locks and her feisty winged eye makeup. Last week, she unveiled her new clothing collection with fashion brand Lipsy, along with a rocking new ad campaign. This shot is from her 'Festival Look' and is already getting me excited about festival season. Makeup guru Karen Alder was behind the look and I managed to bend her ear for five minutes to find out how she did it.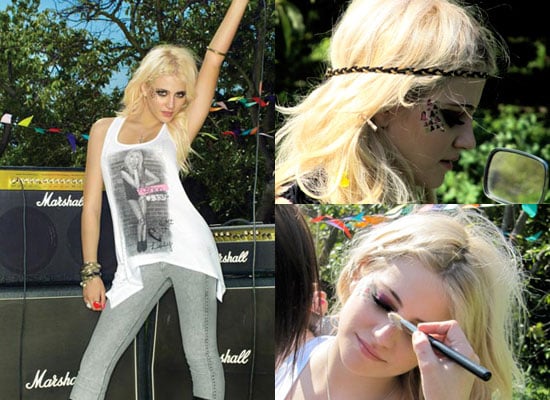 To read Karen's Pixie How-to, just read more.
"It's always great fun working with Pixie as she loves experimenting with make-up," explains Karen. "The festival range gave us an excuse to get creative and go crazy!"
STEP 1: LINE THE EYES: "Use a black khol liner. I love Lancôme khol pencils, they are so soft and you can really blend them and work on getting the perfect shape for you."
STEP 2: EYESHADOW: "Go over with M.A.C eyeshadow in Carbon. This will set the liner and you can really blend out the edges and build up the intensity."
STEP 3: LASHES: "Pop on 140 Intense Lashes by Eylure. These are not for the faint hearted but give a real rock chic look!"
STEP 4: BASE: "Apply, keeping it as sheer as possible. For younger skin use a tinted moisturiser, Laura Mercier's are great and they also have an oil free option."
STEP 5: GLITTER!: "Pat a little She Laq by Benefit on your cheekbones this acts like a glue for the glitter to stay. Then brush M.A.C 3D reflects in Silver along your cheekbones and also in the corners of your eyes."
STEP 6: LOVE HEARTS: "M.A.C. pencils in Green Glo and Pinkie and Lancôme Artliner in black and draw love hearts and stars randomly around the cheekbones and into the temples."
STEP 7: FINISH: "Keep lips and cheeks pretty neutral. I used ligloss and a touch blush on her cheeks."