How To Have Shiny Silky Hair. Quick Beauty Tips For Choosing a Hair Mask
A Quick Tip For Choosing a Hair Mask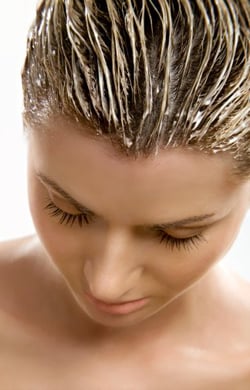 September is the perfect month for treating post-summer hair to a conditioning mask. If your locks are looking more dull and dehydrated as oppose to silky and shiny, then the right moisture-boosting mask can add lustre and restore your hair to it's former glory. However, as with face masks, a one size fits all approach doesn't always work. Instead, follow these top tips for choosing the right deep-conditioning treatment for your hair type.
If you have fine hair then aim to boost volume with a light-weight formula. Look for products with scalp-stimulating peppermint which helps to expand the follicles, giving the illusion of fulller hair.
Maintain the shine of coloured hair with tone-enhancing ingredients. For example, go for camomile for blondes, henna for brunettes and cherry bark for redheads.
Increase the effects of the hair mask by applying it in the bath. The heat and steam from the water will open up the hair cuticles and allow the product to properly penetrate and repair the follicles.
Don't forget that there's only so much product that your hair can absorb. Instead of using too much product, aim to apply a mask twice a week if your hair is extremely parched. Try Umberto Giannini Beauty Secrets Indulgent Beauty Moisture Mask, (£4.99).
Read my pick of the best nourishing hair masks for all different hair types.