How to Keep Hair Colour From Fading 2010-07-28 03:45:20
4 Ways to Keep Your Colour From Fading This Summer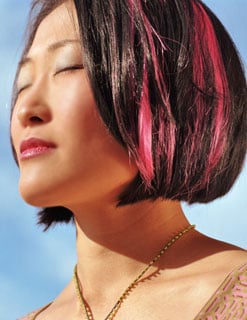 Summer sun, surf, and heat can fade hair colour, but it doesn't have to be that way. Stylists Vickie Vidov and Kristina Barricelli of Manhattan salon Gemini 14 specialise in keeping colour looking healthy and vivid. (That's why stars like Miley Cyrus can be found popping in.) To get their advice on doing just that, just keep reading.
"Try soaking your hair in fresh water before you swim," Vidov says. That should create an extra barrier, she says, that will keep chlorine and sea salt out of your hair shaft.
If you want to keep your colour bright, Barricelli advises you to avoid hot showers, since they can drain the colour from your hair cuticle.
Remember to use colour care shampoo and conditioner for your specific hair colour.
Don't overdo it on the shampoo. "Shampoo is mainly for your scalp, so just lightly massage the mid-shaft to ends by spreading the excess shampoo from your scalp," Vidov says.