How To Make Waves in Hair. Wavy Hair Catwalk Trend Autumn Winter
How To: Perfect Waves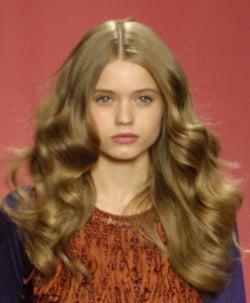 While next spring is looking to be all about slicked-back 20's hair, low ponytails and oversize braids if London Fashion Week is anything to go by, this season is about laid back waves and textured hair styles. Whether you prefer it disheveled or perfectly groomed; wavy hair is back on our radar.
At Preen's autumn/winter show the girls had gloriously unkempt hair, while at Tommy Hilfiger and DKNY, (pictured), waves were ultra groomed and pristine, as though the models were 40's glamour girls. For an easy over night trick for wavy hair, just make like a model and use plaits. Alternatively, here's how to create the perfect waves. To find out how to re-create this look at home, read more.
For unkempt waves, spritz hair with a style spray, such as L'Oreal Techni.Art Hot Style Constructor, (£10.50), to protect your locks and add volume.
Next take large sections of the hair and wrap around the barrel of a pair of tongs. Try Daniel Hersheson, (£85). Hold the tongs away from the scalp for volume.
For the look on the runways at Preen, don't tong the ends to make for a slightly messy vibe.
For groomed waves, wrap the hair around a small barrel brush and allow it to cook with a hairdryer. Alternatively use heated rollers so you can be extra precise about making the waves even.