How Often Do You Clean Out Your Hairbrush? 2010-01-04 03:00:00
How Often Do You Clean Out Your Hairbrush?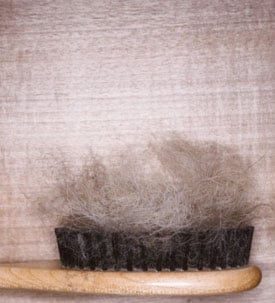 Over the holidays I spent some quality time with family and friends, and one thing I noticed going from house to house was that a lot of ladies don't bother to clean the stray hairs out of their hairbrushes.
I won't preach and say that I do it every day, or even every week. I tend to clean it out using a comb whenever I lose enough hair that it becomes noticeable, but it definitely amazed me how many people wait until it's overflowing.
I know it's messy and it kind of makes you feel like you've got a spider web on your arm for the next few minutes, but cleaning out your brush is a necessary evil as it does nothing but add dust, dirt and your old, dirty hair to your newly washed hair. Vote below to let me know just how often you clean your hairbrush.