How To Paint Magnetic Nails With Nails Inc Fishnet Polish
Hook That Look — 3 Steps to Magnetic Fishnet Nails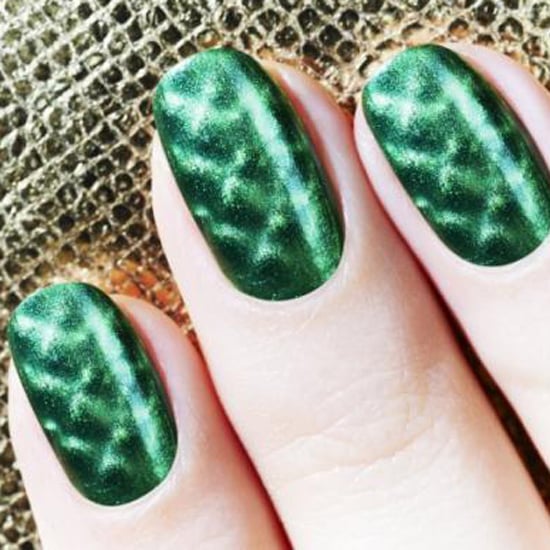 Nails Inc have released a brand new range of magnetic polishes, this time with a unique fishnet effect. The clever magnetic lid transforms block colour into fun patterns, making it possible to create your own chic nail art at home. Iron powder in the polish gravitates towards the magnet in the lid to form the pattern. There are three shades with metallic particles to choose from — Piccadilly Gold Shimmer Fishnet, Soho Chrome Metallic Fishnet and my favourite (shown above) Spitalfields Emerald Metallic Fishnet (£13 each). Here are 3 easy steps to get the look:
Step 1: Apply a base coat, like Nails Inc Kensington Caviar Base Coat (£12).
Step 2: Apply one coat of the magnetic polish to all 10 nails, using the brush on the inner cap (the outer cap contains the magnet) and allow to dry fully.
Step 3: Apply a generous coat of the magnetic polish to one nail and immediately hold the magnetic cap over that nail. Position the lip on the cap just below your cuticle so that the magnet hovers very close to your nail but doesn't actually touch. Hold for 10-15 seconds then remove to reveal the pattern. Repeat on each nail in turn. Et voila!
You can watch a video of Jameela Jamil trying out the magnetic look when you read more.