How To Prevent and Cure Blackheads, Spots, Blemishes, Adult Acne. Treatments and Advice
Spot Check: Banish Blackheads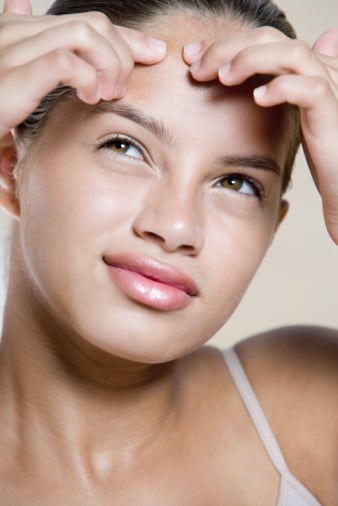 Whether you're suffering from adult acne or you just get the occasional spot — chances are you've had those bad face days, when a pesky blackhead made you want to retreat right back to the duvet.
The best way to get rid of blackheads is to remove the cause of them — excessive sebum or oil and dead skin cells. As I've said before, don't use anything overly harsh or too astringent, as your skin will only compensate by producing more oil. A specially formulated range for blemish-prone skin is best.
Don't be afraid of using cleansing products containing natural oils, such as jojoba or coconut oil to cleanse the skin. These oils are close to our natural oils, so they don't block the pores. I swear by DHC Cleansing Oil (£16) to keep your skin looking clear.
For my blackhead-banishing guide, just read more.
Use a gentle exfoliating mask every day to remove dead skin cells so they don't block pores. Just remember to be very gentle as over exfoliation can exacerbate the problem.
To squeeze or not to squeeze is the question. Personally, I'm against forcing the blackhead out, unless it's being done by a proper skincare expert, as part of a facial, with steam to open the pores.
Try to avoid touching your skin to prevent the spots and infection spreading.
Watch your diet. Make sure you're eating the right kinds of food to reduce sebum production. Avoid too many cooked carbohydrates and fats, and instead replace these with fresh fruits, vegetables and raw fats, such as avocados, olives, and olive oil.
Make sure any foundations and concealers are non-comedogenic and oil free so they won't block pores. Mineral makeup is ideal, though try and give your skin a break from makeup, at least one day a week.
Avoid products containing the following: alcohol, isopropyl mystate, lanolin, sodium lauryl sulphate, sodium laureth sulphate, propylene glycol, mineral oil and parabens. Your skin is ultra sensitive when you're suffering from blemishes, so treat it kindly.
Steaming your face using tea tree oil and then applying a clay mask, a few times a week, will really help.