How To Prevent Ingrown Hairs When Shaving Hair Removal
A Quick Tip For Preventing Ingrown Hairs
While shaving is still the cheapest and quickest method of hair removal, it does have it's own problems. Those annoying small bumps that appear on the skin after shaving are officially known as pseudofolliculitis barbae. Generally referred to as 'ingrown hairs' or 'razor bumps' they can become red, itchy and infected.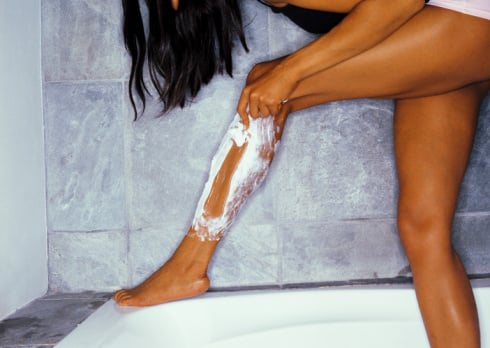 Both men and women can suffer from ingrown hairs. This occurs when the end of the hair shaft is cut resulting in a sharpened edge that, as it grows, curls back into the same hair follicle and results in an inflammatory response in the skin. Sometimes you can even see the hair beneath the skin.
For some easy tips on how to prevent ingrown hairs, simply read more.
If you have naturally curly hair you're more likely to suffer from ingrown hairs. For men it may be better to use an electric razor if this is the case. For women, either use an electric razor (although I know it's not as close a shave) or make sure to shave against the direction of hair growth.
Never shave without first exfoliating the area. This lifts the hairs away from the follicle and softens the skin to ensure that any hairs will be removed more easily.
Using a product with antiseptic benefits is key to ensuring your skin doesn't become infected. Try Murad's Razor Burn Rescue (£27). It is specially formulated with glycolic acid to clear dead skin cells and debris that clog hair follicles. Plus it contains tea tree oil to remove bacteria.