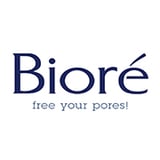 There isn't much micellar water can't do to improve your skin. We've partnered with
Bioré
to show how two of its formulas can benefit oily and combination complexions alike.
Multitasking products are the future of the beauty world. From rosy pigments for your cheeks and lips, to hair creams that style and heat-protect, to shimmery liquid drops for mixing or strobing, they're functional and time-saving — a busy girl's dream.
On the skincare front, micellar water is a true game changer. So much more than just standard H2O, it gently removes makeup, deep cleans pores, and refreshes your complexion in a single swipe. And get this: you don't even need to be near a sink to use it! It's as easy to take on the go as it is to use without leaving the sofa. How's that for a one-step clean?
We all know skincare is notoriously intimidating to navigate, but we're here to show you just how simple it is to add this must-have product to your arsenal. That's why we're demonstrating exactly how micellar water works using two formulas from Bioré, Japan's #1 cleansing brand*. Its charcoal option is ideal for oily skin, while the baking soda-infused version works wonders on combination skin. Simply click and drag the arrows to watch three different makeup looks wash away before your eyes.
The true test of any good makeup remover? How it performs against eye makeup — and this year's vibrant eyeshadow trend (blue, purple, or orange, anyone?!) couldn't be a better test. For micellar water, seamlessly removing shadow, liner, and mascara is all in day's work. A cotton bud will help you target more delicate spots, like your lash line or the inner corners of your eyes. A cotton pad will cleanse and purify the rest of your eye area, including spots where stubborn breakouts often pop up: in between (or literally in) your brow, or near the bridge of your nose, for example.
"No makeup" makeup is the new full glam. Often created with buildable, cream-based products designed to give you a natural glow, this look is refreshing, simple to master, and incredibly time-saving. But when you pare down what you're applying to your face, you might have to reevaluate your skincare routine to ensure your complexion stays clear and naturally glowing. Micellar water will help you put your best face forward. After dissolving heavy makeup that can clog pores and cause breakouts, it works double duty to clean your pores, too. You'll be left with an even, refreshed base for all your minimal makeup looks.
Bold lipstick is always a good idea, but those dark, moody tones really start to emerge during Autumn and Winter. Currently, we're loving deep berry hues like vampy grape, or rustic shades like burnt orange. The only downside is that colours like these can be difficult to remove, often leaving your lips stained by the end of the day. With micellar water, no excessive scrubbing is required to take off (or swap) your lip colour; it practically melts off in one stroke. You can also swipe the formula on your chin, cheeks, and upper lip to tackle breakouts, blackheads, or clogged pores.
*Disclaimer: Intage SRI, Facial Wash Market, Jun 2017 ~ May 2018, Accumulated total sales value of Biore Facial Cleanser Series
Credits: Photographer: Mike Balckett; Art Director and Stylist: Natasha Wray; Hair & Makeup Artist: Lica Fensome