How to Wear Red Mascara
I Wore Red Mascara For a Day — Here's How I Didn't Look Sick
As POPSUGAR editors, we independently select and write about stuff we love and think you'll like too. If you buy a product we have recommended, we may receive affiliate commission, which in turn supports our work.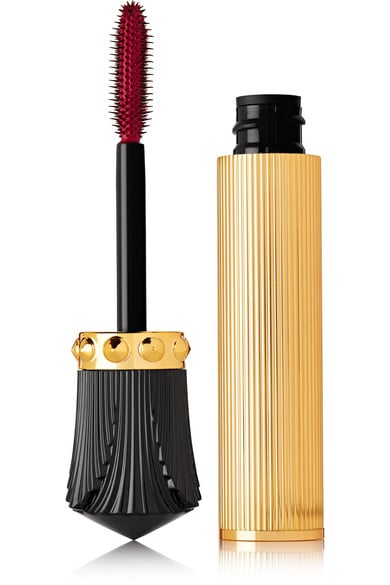 After this season's gnarly flu left me quarantined in my windowless bedroom for almost a week, I could practically hear Diana Ross singing "I'm Coming Out" as I emerged from my cough-syrup-infested cave. No offence to anyone still taking their sick days, but since recovering, I really don't want to make myself look ill again. That's why, despite the fact that red eye shadow looks constantly clog up my Instagram feed, I wasn't all too jazzed to try Christian Louboutin Les Yeux Noirs Lash Amplifying Lacquer (£55). As Cardi B in her red bottoms would say to crimson eye makeup, "I don't f*ck with you."
But like it or not, the tube's hefty, gilded art deco packaging convinced me to slip it into my purse one night. The thick wand and gooey formula truly spoke my love language, so I decided to test it out. In the interest of not looking like a dying character from Les Misérables, I reached out to makeup artist Carolina Dalí on her tips for dipping my lashes in cherry goo.
"Everyone's concerned about looking sickly, but there are so many ways to get around that," Dalí assured me. She then surged into a laundry list of different ways to rock the look, but before that, there's one way you definitely shouldn't wear it. "It becomes a bit cartoonish if you wear red on the top and the bottom lashes. It's overwhelming, and that can make you look sick."
Dalí's go-to technique starts with lining the eyes with a "superthin" black pencil. Then, layer on your normal black mascara as base. Add "just a touch" of red mascara on your top lashes, but keep your bottom set jet-black. Or switch it upside down by keeping your top lashes black but swiping a smidge of crimson on the lower lashes. If you want to add a shadow, Dalí suggested sticking with "soft, toned-down colours" like browns or beiges. "If you're more daring, you can totally do a red shadow," she said. Her trick for that is making sure you layer on black eyeliner above your red shadow, "so that your eyes remain open."
I have brown eyes, which Dalí said are the "best" for matching with red mascara (yay, genetics!). "Red has a blue undertone, but brown, hazel, and green eyes have the opposite of that," she explained. That contrast makes for a fun pairing. But if you have blue eyes, you can still rock the look, too. "I would just do it more subtle than with brown eyes," Dalí said. "With brown eyes, you can do a lot of colour and take it there."
When it came time for me to take it there, I opted to keep it simple. I have been getting a lot of compliments from wearing the shiny and wet-looking Tom Ford Eye Gloss (£32) over my naked lids, so I paired that glaze with my favourite jet-black (and vegan!) Inika Long Lash Mascara (£19). Like Dalí instructed, I layered the red on my top lashes and kept my bottoms bare.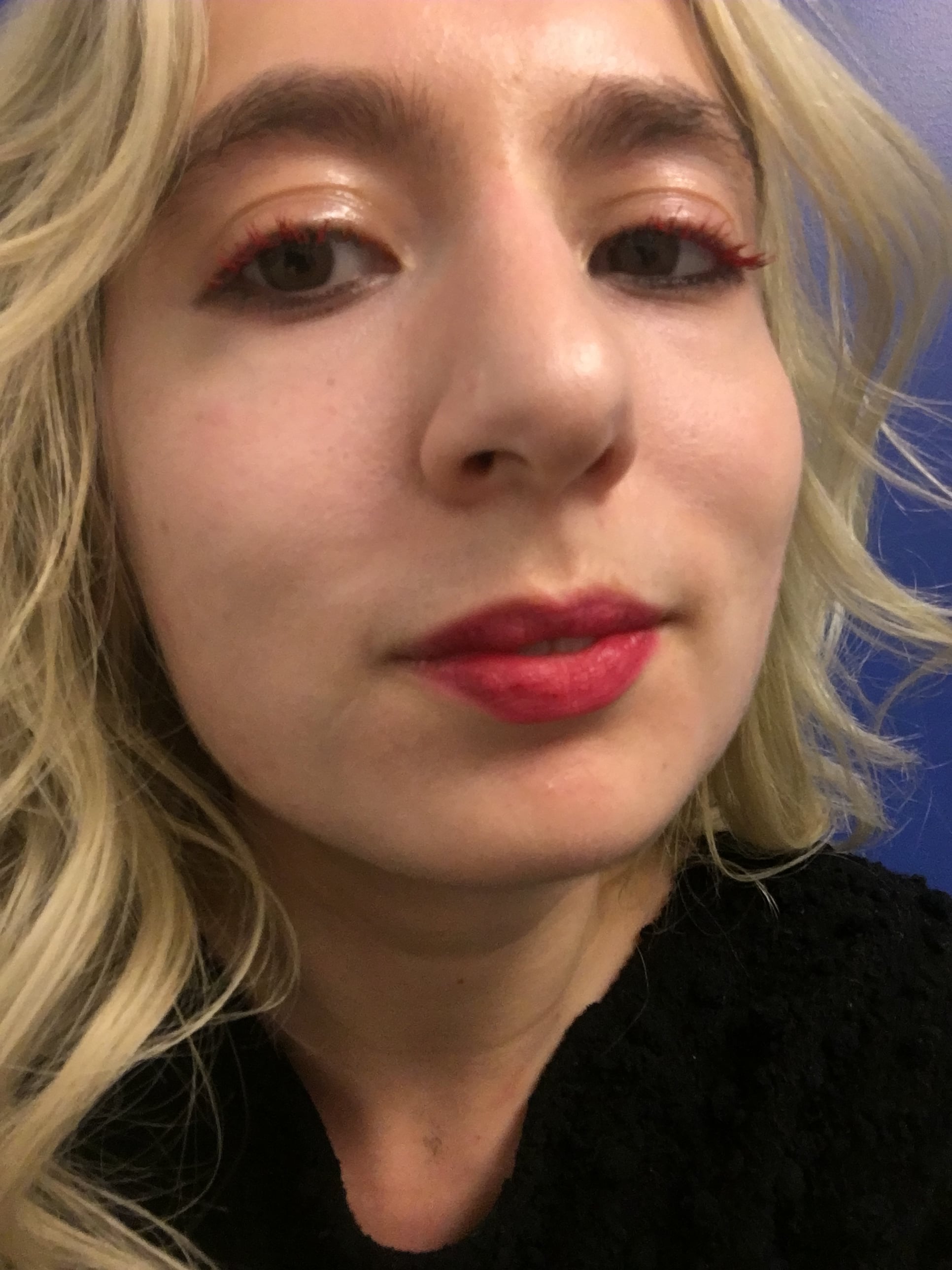 Immediately after I put on the mascara, I realised I was going to a facial — where the esthetician would no doubt take off all my makeup (a great problem to have, I know). As soon as I got to the salon, she noticed my red tips and said, "I'll take your foundation off but keep this on. It's just too cute to wipe away." Nailed it.
The rest of the day went along following a similar pattern: I'd see someone (coworker, roommate, prospective boo thing), and we'd start to talk. Then, maybe five or so minutes into the conversation, they'd interrupt and say something along the lines of, "Holy sh*t, I just noticed your eye makeup. That is [dope/grand/spectacular/other positive descriptor]."
Overall, I was surprised at how I looked good but not completely attention-grabbing. My mascara wasn't ever the first thing people noticed about me, but it did provide a nice kick of colour. What's better, no one ever offered me a tissue or mistook my red eye for conjunctivitis. One POPSUGAR Beauty editor told me that my mascara looked even better when I looked down, so that is the image I will leave all you fine people with now: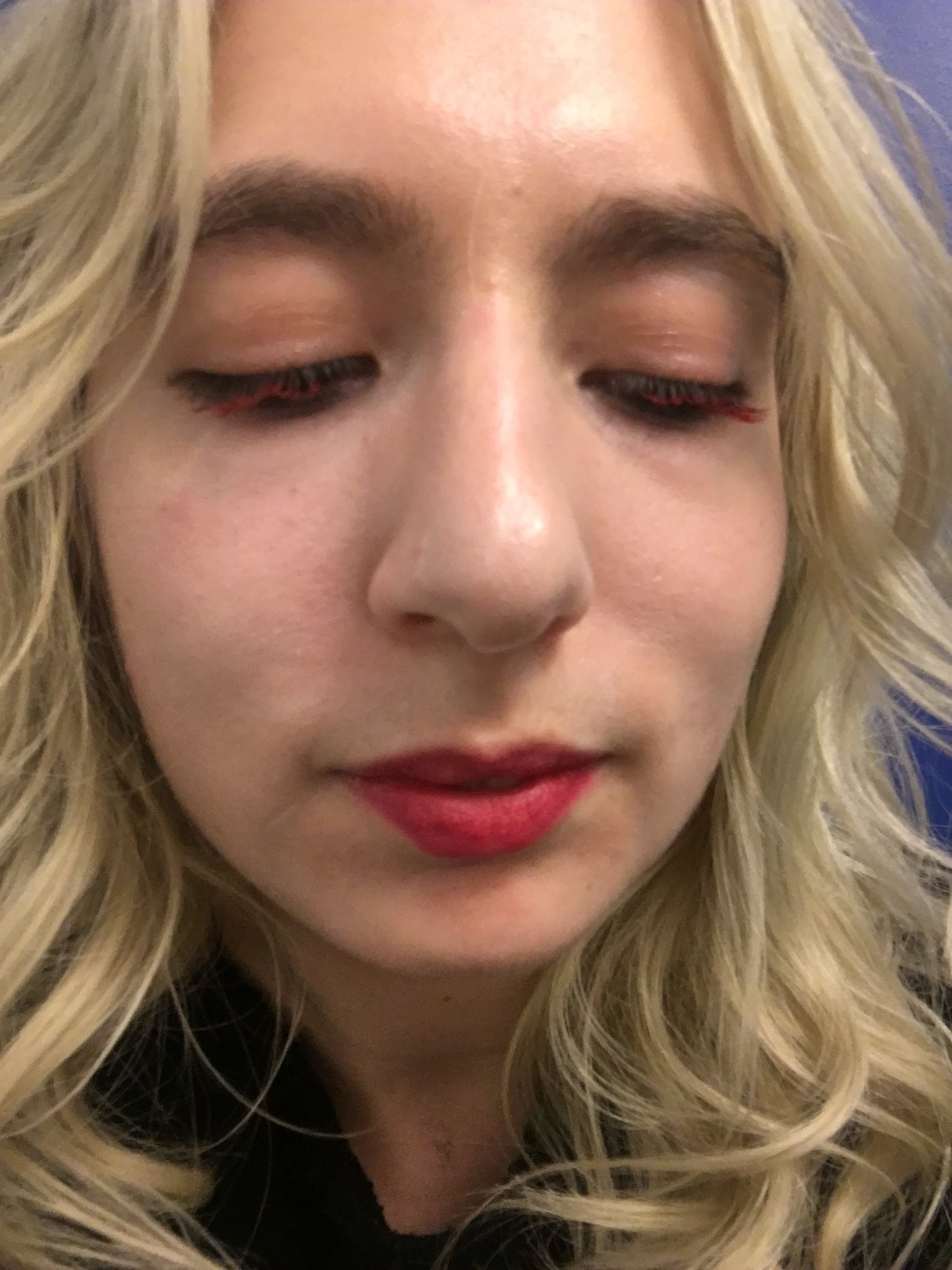 Image Source: POPSUGAR Photography / Alaina Demopoulos