How To Winged Eye Makeup
How To: Perfect Dark Cat's Eyes
Dark smokey cat's eyes have emerged as one of the major beauty trends for Autumn 2010. All over the catwalks of Milan and now Paris- not to mention heaps of celebrities – lined graphic winged eye makeup has become the must-have look. I caught up with celebrity makeup artist Karen Alder to find out how to get the look. Karen counts everyone from Carey Mulligan, to Pixie Lott, Kylie and Danni Minogue among her clients.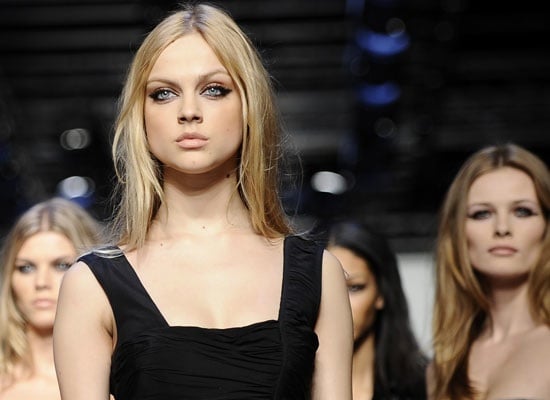 To find out her top tips, just read more.
The Trend: Karen explained, "I was amazed to see how the dark winged eyes donned the catwalks in Milan for Autumn. The challenge with this look is how to keep the shape all day. It's Pixie (Lott's) favourite and to keep the shape through performance has been essential. Check out her Cry Me Out video – It's all about layers."
Preparation: "Start with a Laura Mercier eye base. It acts as an amazing primer that evens out skin tone and gives your eyemake up staying power. Choose a colour that matches your tone."
Lashes:"Curl your lashes. The trick is to keep the eyes as open as possible."
Line It: "With a sharp khol eyeliner – I like Lancôme pencils, they are just the right texture- work the khol into your lash line. (Top tip: Whilst drawing the shape of the tick, follow the line of your jaw line as you get to the outer edges of your eyes for the perfectly flattering winged effect."
Work it in: "Blend with a small brush. As you do this you elongate the line always shaping up and out. This gives the lovely feline effect. Don't go so high that you hit you contour bone. Then push the kohl into the lashline whilst creating a lovely almond shape that connects to wing. Again, softly blend the kohl with a small brush to perfect the shape."
Eye Shadow: "Use a little carbon eyeshadow by MAC, gently brushed over the kohl it gives more staying power and enables you to perfect the shape. You can soften the edges as desired."
Finishing Touches: Use Lancôme's black Ink Artliner to draw a thin line along the top lashes, and then a little dash under the centre of the lower lashes. Several coats of mascara gives real drama. Some cotton buds with a little eye makeup remover can magic away any mistakes."
How to Wear It: "Put on a very sheer oil free base to the rest of your face. You can really play with this look depending on how much drama is required! The secret is keep your base as sheer as possible and perfectly balanced. This way you can have fun with colour on the lips too, from pinks like MAC Snob to vivid reds. It's all about layering and texture."