How to apply glitter to eyes, for a Dior catwalk look from BellaSugar UK
Trend Alert: All That Glitters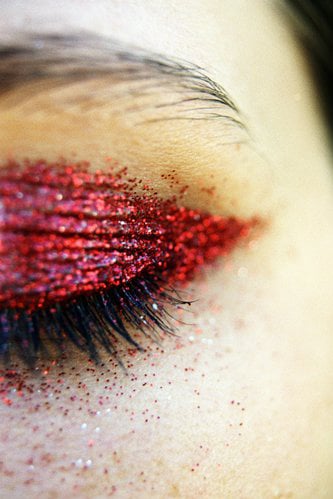 At the Dior Spring/Summer Haute Couture show, John Galliano sent out a bevy of brightly dressed, models-as-society-beauties; all with eyes that were loaded with glitter.
Glitter on the eyes is nothing new, but what is different this season is a cabaret meets BoomBox-esque twist, where the glitter is piled on with abandon and spreads out from the eyes, down the cheeks, for a modern take on this starlet classic.
For a big night out, experiment with different coloured glitter – iridescent green and bright gold are hot right now, but bronze is a good starter colour. For some easy application tips, just read more
So that your eyes will stand out in the mass of glitter, use a black or dark brown eyeliner. Try Rimmel, (£2.99).
Dab some vaseline where you want to apply the glitter – so all over the eyelids, up to the brow, and on the cheekbones.
Using an eye-shadow brush, apply the glitter on the eyelids. Press the brush against the centre of the lid. Use firm, short strokes to spread the flecks across your eyelid, working from the centre to the outer corner of the eye, then from the inner corner back to the centre.
Try the bargainous, Barry M Dazzle Dust, (£4.50), in old gold or rust. I love using MAC's Solar Bits, in Black Ore, (£14), for a super dramatic look.
Take the product right up to your brow bones and smudge a little with your fingers.
For an avant-garde vibe, take the glitter right out to the top of the cheekbones, in a winged look. It should almost appear as though you've been crying glitter. Add more vaseline first if you need it.
Try Urban Decay glitter eye gel, (£11.50), applied all over the eye area, for a less messy look. Rockstar is a moody purple, while Arena is a great bronze-gold.
More likely than not, you'll have glitter in places you didn't want it. Just clean up using a makeup remover, like Amie's, (£4.75).
For a more subtle, and easy, look try a glitter eyeliner, like Jemma Kidd's, applied over the top of a metallic shadow, and blended well.