How to get Agyness Deyn's hair and makeup look
Beauty Girl Crush: Agyness Deyn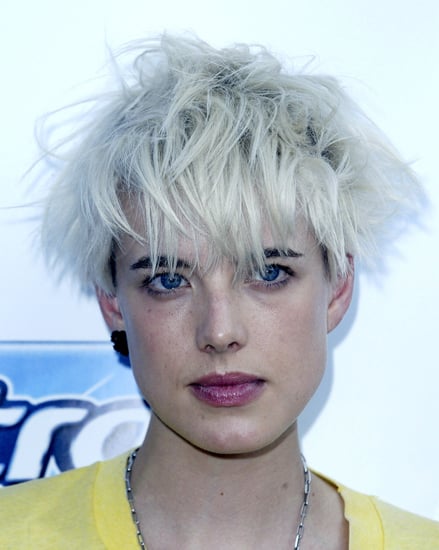 I have to admit, when Agyness Deyn first rocked up onto the scene I didn't really see what all the fuss was about. So she's a former chip shop girl made Jean Paul Gaultier muse and model. So she's best mates with Henry Holland and she looks a little like a younger Debbie Harry - so what. (Jealous, moi?) But after seeing her up close I was taken aback by the almost perfect translucent quality of her skin and her strong features, not to mention her down-to-earthiness. Now I understand the comparisons to Kate Moss.
Here Agyness looks naturally cool and beautiful at a Henry Holland and Wrigley's party. She may be a model, but compared to the many identikit faces on the runway, Aggie stands out with her short, spiky hair and bushy brows.
Here's our easy-peasy guide for getting her look. read more
HAIR: Agyness keeps her mop messy by using an old-fashioned volumising mousse - try Volume Lift Mousse by L'Oreal (£9.25) Work it through damp hair before rough blow-drying to give thickness and texture.
BROWS: Keep brows bold and strong by not over-plucking. For a simple and cheap way for naturally groomed brows, add a little vaseline to a cotton bud and smooth onto flyaways. Don't overdo it though - no one likes a chip shop look!
EYES: I love how Aggie keeps her eyes looking natural. Just sweep on a dash of black mascara like Maybelline Define-as-lash.
CHEEKS Agyess's flush always looks pretty and natural, to balance her otherwise edgy look. Dab a little Pot Rouge (£16), from Bobbi Brown onto the apples of your cheeks and blend with fingertips. The raspberry shade will work well on most skin colours and is ultra-cool right now.
LIPS: Rasberry lip gloss looks sweetly chic, apply a sheer lipstick with a brush for extra precision. Try the fantastic Clarins Joli Rouge in Soft Berry, (£14.50). Then add lip gloss for a sexy summer pout.