How to get the latest catwalk hair trend - pirate plaits as at Jean Paul Gaultier
Hair How-To: Jean Paul Gaultier Pirate Plaits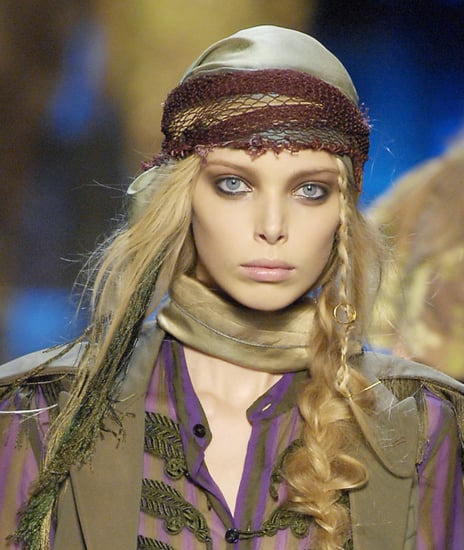 Take inspiration from the Jean Paul Gaultier Spring/Summer show, where small sections of hair were tightly plaited for a modern-day, pirate look.
This is a great look for the beach, when hair is likely to already have more texture than usual.
Think deluxe hippy, and combine the plaited sections, with matte – yet healthy looking – hair.
Here's How:
Keep the plaits uneven - to avoid looking too twee. This isn't Little House on the Prairie, you know!
If you want to keep it simple, just one tight plait, on one side of the face, looks chic and sweet.
First, make sure your parting is uneven. Then, randomly pin bits of hair, using grips, to keep the effect sexily dishevelled.
Next, take small sections of hair, and plait tightly. Either leave the ends loose if you already have lots of texture in your hair, or fasten with a small bobble.
For ship wreck chic, fasten the plaits with string that's the same colour of your hair. Or use thin strands of leather.
Keep the rest of the hair mussed-up, by spritzing hair with a texturising spray when it's still damp. I really like Shu Uemura Art Of Hair Texturiser.
A loose hold hairspray will keep the look in place, while still allowing movement. Try Nicky Clarke Red Carpet Flexible Hairspray, (£4.49).