How to give a facial massage at home – quick and easy beauty tips from BellaSugar UK 2008-08-01 01:00:00
A Quick Tip About Facial Massage, Part 1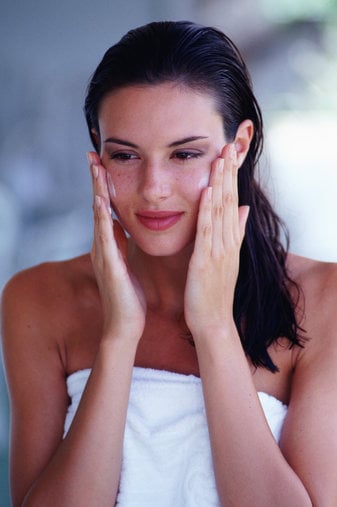 The best part of any good facial is having a skincare professional smooth and massage your skin – for a firming, plumping and youth-enhancing effect.
To top up your regular facials, or if you don't have the time or money to get professional facial massages – try these top tips for at-home pampering:
First, choose a good facial oil. I like a diluted rose essential oil. For mature or prematurely aging skin, try Trilogy Rosehip Oil.
Apply the oil to a clean face. Use your index, middle and ring fingers to lightly stroke and massage the skin.
First, tap your eyebrows with your middle fingers, lightly at first, and then harder. Start at the very top of the nose, and tap outwards, over the brows and then in a circular motion, around the eyes, and across the top of the cheekbones, under the eyes – until you come back up to the bridge of your nose.
Repeat this a few times, and imagine that you are 'tapping away' any stress or worry.

Just read more for the rest of the easy how-to:

Then, starting at the bridge of the nose, use the middle fingers to smooth up and outwards, in arc motions – starting small and making the arcs get bigger as you move up to the top of the forehead.
Then, open your index and middle fingers into a V-shape. Place each ear in between the V of each hand, so that the index finger is behind the ear, and the middle finger is in front, by the face.
Press gently with both fingers, and then make small, circular motions with the middle fingers, on your temples. This is great for reducing tension headaches.
Next, work on your nose. Begin at the hollow of each eye, and smooth down the sides of the nose with your index fingers, one on either side. Repeat this five times.
Now starting at the top of the nose, lightly pinch down the bone, across the bridge, to the nostrils. Repeat a few times.