How much hair do you lose in the shower?
How Much Hair Do You Lose in the Shower?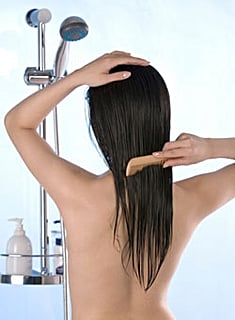 According to a study, more than four million British women (and one in ten adults) suffer from so much stress that it's causing their hair to fall out. So if you find yourself pulling gobs of hair that has become weaved between your fingers and the drain in the shower, don't panic (and definitely don't stress), you're not alone.
After an intense shampoo, I'm always horrified at the amount of hair that falls out. It scares me because I've noticed that my hair is definitely starting to thin. I've tried using shampoos and conditioners for thinning hair, brushing 100 times before bed and even pricey scalp massages, but nothing seems to help. I guess it's time for a holiday! Do you have the same problem?