How to wash makeup brushes
A Quick Tip For Beautiful Brushes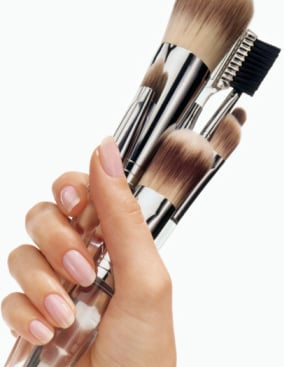 Washing your makeup brushes might be down there on the to-do list, along with other beauty chores, such as clearing out your makeup bag. But when you think about all the dirt, germs and other nasties that get clogged into your brushes you might want to try and stick to a regular once-a-fortnight routine. Think about it, you wouldn't apply foundation without washing your hands, so why would you put dirty brushes on your skin?
I admit, I am culpable of this beauty crime. But as of today, I am starting a new routine, washing my blusher, foundation, eye shadow and lip brushes regularly. Use a mild shampoo, such as one formulated for babies like Johnson & Johnson's Baby Shampoo, (£2.49 for 500ml).
Fill a sink with warm water and pour in a little shampoo as though it were bubble bath. Then leave take any of your bristle brushes, such as blusher or powder ones, and gently rub them with the soapy water. Take care not to scrub though, as most makeup brushes are fragile and the hairs will break. Smooth the water onto the brush in a downward motion as though the brush were a ponytail you were brushing with your hands. Leave them to soak for five minutes or so if they're really dirty but not too long.
Next —you might want to refill the sink for this if the water's dirty —take any sponge applicators, eyeshadow brushes and lip brushes and applicators and rub gently with fingers. You can leave these to soak , as they probably have more makeup residue on them, but no longer than 30 minutes or so.
Don't ever rub brushes or sponge applicators dry. Instead pat with a hand towel and then leave them to air dry, on top of the towel. Now, you can feel jolly pleased with yourself and go and have a nice cup of tea. Job done.