Huda Kattan Beauty Interview
Huda Kattan Is Here to Make Your Brow Game Strong
As POPSUGAR editors, we independently select and write about stuff we love and think you'll like too. If you buy a product we have recommended, we may receive affiliate commission, which in turn supports our work.
If you love makeup and you love social media, you'll be more than a little familiar with Huda Kattan. With over 20 million Instagram followers, Huda is your go-to girl for all things beauty, from makeup tutorials to memes. The world-famous beauty guru already has her own makeup range (those lip strobes, though) and now she's teamed up with Tweezerman to add a bit of her signature glamour to your brow-grooming routine, too. She shared with us her top tips for the best brows ever, from perfect DIY plucking to how to deal with those pesky white hairs. See what she had to say now, then shop her Tweezerman must haves before they sell out.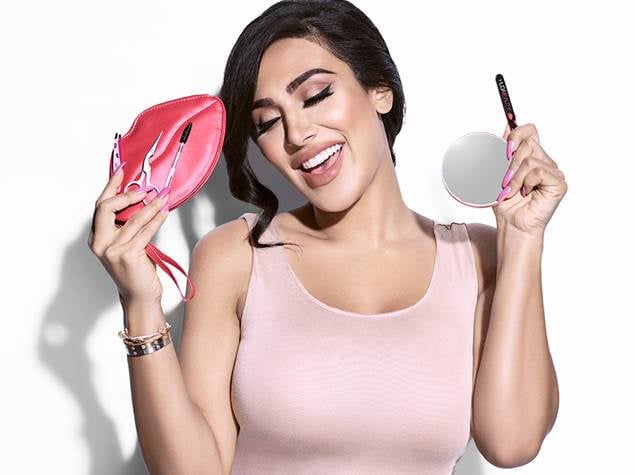 POPSUGAR: What is your ultimate beauty staple that should be in everyone's bag?
Huda Kattan: My Tweezers! Tweezers were my very first beauty tool, and being a very hairy person, I literally cannot live without them.
PS: Do you tweeze your own brows?
HK: Yes, I do. I've never been one for waxing or threading, and what I like about tweezing is that I have full control over my brows and can be as precise as I want to be by removing each hair separately. This really helps to perfect the shape and also prevents you from removing too many hairs!
PS: What are your go-to brow-grooming tips?
HK: Grow your brows out completely, and trust your natural brow shape! Your natural arch will more than likely complement your face shape, so be careful when trimming your brows, and focus on enhancing the shape instead of changing it completely. If you've seen my brow hacks on Instagram, then you know I LOVE to use a caliper to perfect my brows and create symmetry! I find these tools really helpful to understand where my brow should start and end and if they look similar. There's also a brow stencil I like to use sometimes, which helps measure your brows and helps you perfect the symmetry. Castor oil works wonders to help grow out your brows because it stimulates hair growth to create thicker and fuller brows (I swear by it!). I prefer to use an oil-based makeup remover when getting rid of any brow product as it's extra gentle and every hair is precious!
PS: Who is your greatest beauty inspiration and why?
HK: My greatest beauty inspiration is my younger sister Mona. As a child, Mona was in beauty pageants, which are VERY big in the South, and I would love to do her makeup — she was like my little doll. Even now, she is my muse, my icon, and sometimes my guinea pig, but ultimately, one of my biggest cheerleaders.
PS: Why did you want to collaborate with Tweezerman?
HK: I've always wanted to do a collaboration with Tweezerman, mainly because I've been a hairy person for the longest time, and tweezers were my first ever beauty tool! Tweezerman is a brand I've been using for years because the quality of their tweezers and products is honestly unparalleled. My favourite part is being able to work with a brand I love, a brand I believe in and have been using forever. They were so amazing to work with and allowed me to be as involved as possible when it came to the design of the collection, which I LOVE! I really wanted to do the essentials in a kit, and of course, it had to be in pink! The lip print on the tweezers is the signature Huda Beauty print, and it was very important for me to include our gorgeous Pantone pink on the inside of the tweezers.
PS: When (if ever) is it OK to go outside your natural brow shape, and how do you keep it looking natural?
HK: I generally stick to my natural brow shape, although the only thing I do manipulate is the height of my arch. I generally tweeze the hairs below my arch, and then over-draw my arch above to give my brows a more lifted look. This also helps my eyes look less droopy and more awake, as my brow is more lifted.
PS: How do you cope with occasional white or blonde hairs in darker brows? Is this normal?
HK: This has happened to me before, but if I can tweeze them away, I do that, then fill in any empty areas with some brow gel. Another option would be using a really good tinted brow gel and brushing through your brow hairs with it. If you're out of options, you could go to a salon and have them tinted.