Illamasqua
Illamasqua's New Spring/Summer Sirens Collection is Here!
A few months ago I told you about a new brand in the UK called Illamasqua that I've totally fallen in love with. The pigments are the richest I've ever encountered, the assortment of jaw-dropping colours rival MAC (no, I'm not kidding) and the textures are so creamy, velvety and luxurious that time stands still when you're at the counter. Can't you just feel my excitement!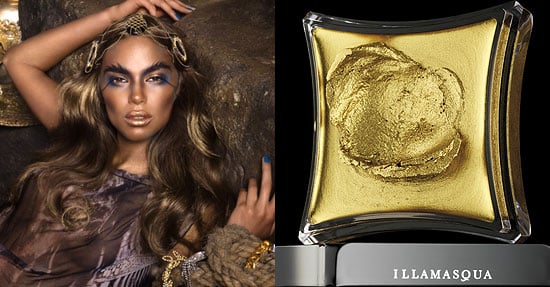 I can't speak highly enough about this new discovery and it just keeps getting better. Last week they launched their Spring/Summer Sirens Collection and I was lucky enough to get a tour (and an incredible makeover) at their London counter at Selfridges. There before me stood a hunky young male mode getting bronzed and brightened from head to toe with the new goodies — and let me tell you, it was hot! The range was inspired by the enchanting beauty and divine appeal of the Sirens and includes corals, blues a scope of serious metallics (the star product being the liquid metals) for your eyes, face, lips, body and nails.
For morel photos of the collection, the ad campaign and a description of each of the exciting new products, read more.
Nails
Muse (£12.50) is an opaque, bright teal nail varnish that you can see on the model in the photo.
Lament (£12.50) is a flirty, opaque neon coral nail polish that looks especially gorgeous on bronzed skin.
Face
Bronzing Duo (£18) is available in two shades: Glint/Burnish is a darker combo, whilst, Glint/Writhe is a little bit lighter for those with fairer skin. The Glint side is a powder highlighter and the other sides is shimmery powder bronzer.
Liquid Metal in Enrapture and Solstice (£16) are metallic cream pots that can be used on the face or body. The colours are seriously intense, so they should be used sparingly and then layered until you get your desired result. Solstice is a rich gold and Enrapture is a hearty bronze.
Fat Pencils in Fickle, Wilful and Peverse (£12.72) are fabulous multi-use products as they can be used on the eyes, lips and body.
Eyes
4-Colour Powder Eye Shadow Palette (£33.28) contains four differing blendable yet bold powder shadows in bronze, teal, blue and gold.
Shimmer Cream in Eternal (£14) is a grey and creamy eye gloss that creates a wet-look finish. Tip: It can be used all over the body not just on the eyes.
Lips
Fable Lipstick and Resist Lipstick (£14 each). Fable is a pale pink that looks great paired with a smoky eye and Resist is a deep, matte raspberry shade.
Soul Sheer Lipgloss (£12.50) is a shimmery pinky gold colour that looks gorgeous alone or blended over Fable and Resist.