Interview with Being Content Owner Imelda Burke
Bella Brand: Being Content
Ask any natural beauty fan what their favorite destination is, and chances are they'll mention Being Content. The natural beauty shop and website was launched by Imelda Burke in 2008 and has since become one of the UK's most well respected beauty destinations. Imelda is passionate about natural beauty. Her store in London's Marylebone is a haven for new product gems, and her website is the ultimate go-to for great advice and shopping. I caught up with Imelda recently to find out more about the Being Content concept.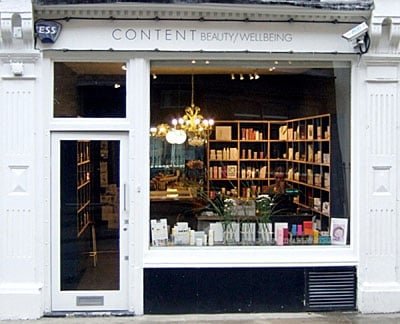 To find out what she said, just read more.
How did you come up with the idea for the site?: "I was bored with shopping in department stores that didn't stock any natural and organic brands to choose from. It was all a bit clinical and no interesting niche brands were represented. I started by setting up a shop. From there we developed the website and it has kept growing. My main aim was to supply luxury products, not just another version of what the health food stores stock. The store and site was created to offer a selection of the best brands in a boutique environment."
Why do you think ethical beauty is important?: "I view it quite simply: If it is common knowledge that the closer to the real food source we eat, the better it is for us, the same principle applies to what we put on our skin. If you avoid putting 'Junk Food' in your body why would you put it on your skin to be absorbed?"
What are your favorite brands on the site?: "I love all of them but my new favourite would have to be Amala. It has an incredibly high ethical and environmental stance. I'm very excited that they have gone to the extent of holding independent clinical trials - proving that natural hair care really does work."
What should people look for when buying products with eco consious and ethical claims?: "Shop from a trusted supplier. Due to the ongoing confusion over all the different certification bodies, some organic brands choose not to be certified. Look out for the NaTrue certification body that comes into effect at the beginning of April. This has a very good star system that indicates the level to which an item is certified, making it very clear what the product's status is. The Soil Association is also great as it requires a minimum of 70% organic ingredients to be certified."
Photo of London Marylebone store courtesy of Being Content