Interview with Bobbi Brown
My Global Webcast Chat with Bobbi Brown!
A couple of weeks ago Bobbi Brown conducted her first ever global webcast chat with press from all around the world to answer beauty-related questions and promote her new book called Beauty Rules. The book, which is due to launch in mid October, is actually an updated version of her 2000 version, and is dedicated to girls in their teens to mid 20s. It talks about looking good in an approachable way and covers everything from makeup to nutrition, exercise, overall wellness and the basics of hair.
Bobbi uses real women, not models in the book and feels that wearing makeup should make your skin look better. She believes the number one thing to remember about teen beauty is "Be who you are. Eat healthy, exercise, drink lots of water and don't smoke." From someone who has made their fortune selling products, I find this earnest advice priceless! I can't wait to read the new and improved version. Will you be lining up to purchase Beauty Rules? Check out what else Bobbi had to say below.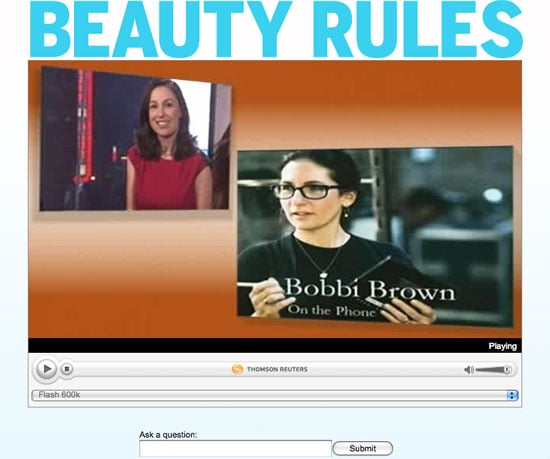 What is beauty to you? I love beauty that isn't typical. Beauty doesn't mean that you look like a supermodel or Barbie. It's someone who is unusual, special and pleasant to look at.
Do you have any advice to young girls who like to post photos of themselves online? Don't post anything you wouldn't want your big sister to see. You may think that it's OK for a second, but it's not necessarily for the world to see.
You seem to have a love affair with metallics, how do you keep reinventing them? Personally, I don't wear them, but sparkles ad shimmer on a young girl and anyone on occasion. Metallics with a natural tone are great for everyday use since they make you look a little bit more dressed up.
For additional highlights from the webchat, and to find out what's next from the Queen of Neutrals, just read more.
What do you think your next book will be about? Women in their 30's is the only demographic I haven't really covered. This is such a busy time with children and careers, and seeing as I have been through all of this, I think I can write something that will reflect my experiences.
Can you give young female entrepreneurs some advice My advice is to work really hard. Be passionate about what you're doing because it's not always easy. Be sure that what you're doing makes sense and understand that you have to be different than everyone else in the market in some way.
What is a good age for girls to begin experimenting with makeup? Aged 12 is a good time for girls to experiment with a little bit of gloss or colour on the face.
What is the best beauty advice that your mother has passed down to you? She always told me to take good care of my skin. Many mothers don't touch on the subject of beauty at all because they think it's frivolous or vain, when in fact, it's very important.
What is the most underrated product in your opinion? The most underrated skincare product is face oil. Moisture is the secret to looking good, so drink lots of water or moisturise with a water based lotion or a face oil. The most underrated makeup product is bronzer. You can wear it all year round. It helps tint the skin and warm up your complexion — it's amazing!