Introducing Crème Ancienne Eye Cream from Fresh
Holy wow! I attended a launch for the new Crème Ancienne Eye Cream from Fresh yesterday and it completely blew me away. Actually, it wasn't solely this product that I found so amazing, it was the entire range. I should start at the beginning, the very beginning of time that is, when the first skin cream was developed by a Roman physician who worked with monks to help heal the deep wounds and scars of gladiators.
Lev Glazman and Alina Roytberg, the founders of Fresh, have modernised the original formula (found in the French LVMH archives) by blending equal parts of floral wax and various oils including the ultra emollient meadow-foam seed oil together by hand at the same temperature so that it all binds together seamlessly. The result is Crème Ancienne (£155) which will put your grandmum's cold cream (and even, dare I say, Cremè de la Mer to shame). It has the thickest and richest texture I've ever felt and can be used anywhere on the body including the face. Julia Roberts even used it as stretch mark cream when she was pregnant!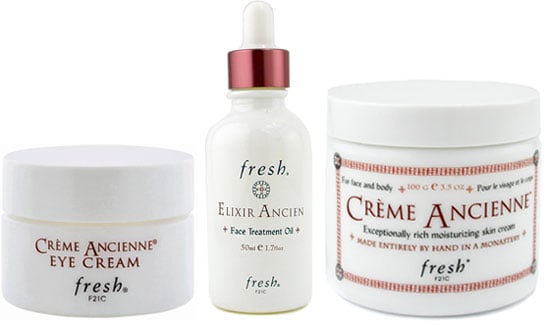 Two years later, Elixir Ancien (£155) was developed as an equally effective face treatment, with a different texture for those of you who prefer an oil. And just out Monday is Crème Ancienne Eye Cream (£72) to complete this fabulous trio. It has a whipped, light and buttery feel and colour that contains two new ingredients. The first is sugar apple seed extract, a fruit rich in peptides to help build collagen and reduce the look of wrinkles, and the second is rosemary leaf extract to help increase circulation and tone the delicate eye area.
Honestly, it's not that often that I get this revved up about a skincare product, but I used the eye cream on my hands, and by evening, I already noticed a difference. That's when I know I've found something special! The new eye cream is also created by hand in a Czech Republic monastery, and I've got a special video to show you just how it's made. To see for yourself, read more.