Iskra Lawrence Opens Up About Keratosis Pilaris on Instagram
Iskra Lawrence Opens Up About Her Keratosis Pilaris on IG, and the Comments Show Why It's So Needed
Keratosis pilaris, sometimes referred to as "chicken skin", is a very common skin condition and according to the British Skin Foundation, affects approximately 40 percent of adults in the UK. The condition is harmless but causes lots of tiny raised and sometimes coloured bumps, normally found on the arms and legs. The cause is due to an overproduction of keratin, leading to blocked hair follicles and resulting in the small raised bumps. Although there is no cure, there are certain steps you can take to reduce the appearance of KP.
Iskra Lawrence, a woman always keeping it real, posted on her Instagram proudly showing off her KP with the caption, "✨Keratosis pilaris✨ Aka the reason I hated the skin on arms for basically my whole life." She wrote that the condition is very common but explained, "because skin is photoshopped and smoothed all over the media, magazines, and now social media, it makes it seem like there's something wrong if you don't have crystal clear, smooth skin." She then encouraged her followers to comment below and "say something nice to yourself today❤️."
The model and activist also posted an up-close shot on Instagram Stories proudly showing off the KP on her arms. Fans and other KP sufferers poured out their thanks in the comments to Lawrence for posting about the condition. One comment said, "Thank you for being such a positive, shining example of acceptance and confidence."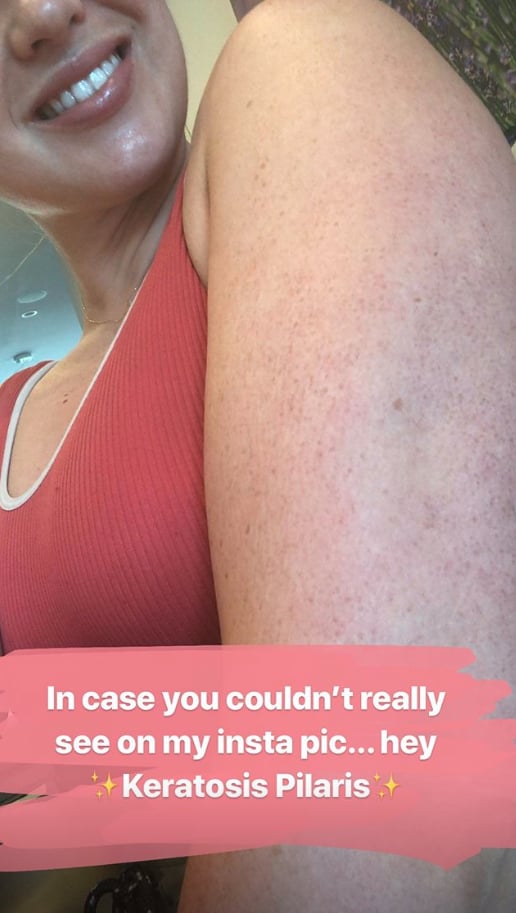 Image Source: Instagram user Iskra