Jade Jagger Designs New Guerlain Perfume Bottle 2010-05-19 02:00:19
Jade Jagger Designs New Guerlain Perfume Bottle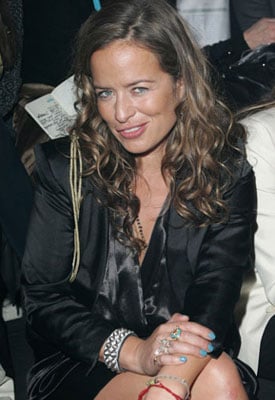 Jade Jagger knows how to multi-task. The daughter of Rolling Stones rock legend Mick Jagger already has a successful jewellery line alongside a clothing label and interior design post at real estate company Yoo. Now she's adding a beauty feather to her cap!
Beauty company Guerlain announced today that Jade is to design and update its 85-year-old Shalimar fragrance bottle.
Shalimar is one of Guerlain's most iconic fragrances. The scent is a heady mix of bergamot, jasmine and rose notes, underpinned by vanilla and iris.
The new bottle is out in September and will be fan-shaped, with a grey-blue cap and a navy blue leather tie around its neck.
I can't wait to see the new design! It's nice that Guerlain is taking the time to update one of its classic perfumes. I'm also excited that its involved Jade Jagger. She has such great personal style it's sure to be a fabulous design.