Jade Jagger Hair
How To: Get Jade Jagger's Beachy Waves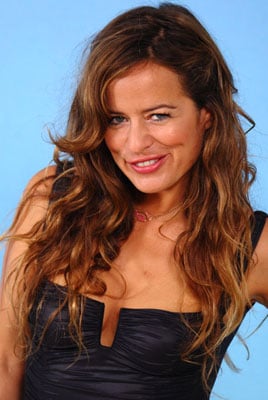 With Summer approaching, the must-have hairstyle is tousled, beach waves with either a centre parts or just slightly off centred and zig zagged. This look is great on wavy, straight, curly and especially thin hair, as it creates a plumping illusion.
Take your cue from model, socialite and jewelry designer Jade Jagger who was pictured posing for Corona's Save The Beach Campaign at London's Trafalgar Hotel yesterday. With just a few key styling products and tools, you can re-create this easy to achieve hairstyle at home.
For product suggestions, four easy step by step instructions and more photos of sexy Jade, read more.
STEP 1: Prep hair by washing with a volumizing (protein-enhanced) shampoo and conditioner such as Kiehl's Amino Acid Shampoo (£16) and TRESemme Volume Pro Vitamin B5 Volume Conditioner (£2.93). Rinse well and repeat if necessary.
STEP 2: After you've gently toweled dried your hair, brush it out using a wide tooth comb. Next, apply both a heat protecting spray all over and a volumising spray at the roots such as Real Hair Style Volume Plumper (£14).
STEP 3: The key ingredient for sexy, voluminous, beachy hair is a salt, or wave-enhancing spray. I really like the new Summer Hair Marine Beach Waves from Frédéric Fekkai (£20) because it's light, non-greasy, non-sticky, it smells incredible and it's hydrating. Spritz a generous amount all over on damp hair and finger comb through.
STEP 4: Lastly, using your fingers, create a casual part. Next, scrunch hair gently in your hands to define the waves if hair is slightly wavy or straight. If you can let your hair dry naturally, that's preferred, however, if hair is too thick or curly, hold the ends taught with one hand and use quick flickering motions with your dryer with the other until hair is 80% dry. This should help reduce moisture and the definition of your natural curls.