Jade Parfitt Beauty
A Fashionable Chit Chat With Model Jade Parfitt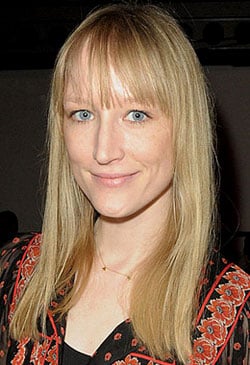 I spied the stunning, six-foot tall, 30 year-old, British model Jade Parfitt sitting in the front row of the Ashley Isham Show two weeks ago. After it was over, she stood on the catwalk palling around with Erin O'Connor and Tess Daly and I just couldn't resist the chance to ask her a few questions about her beauty regime.
Whist talking, she mentioned her love of horseback riding and her two-year old son. I also learned that Jade began modeling at 15 after winning a TV contest. Since then, she's graced many magazine covers, she's snagged some pretty hefty campaigns (Carolina Herrera Parfum) and she's walked in well over a hundred fashion shows. As if that's not accomplishing enough, Jade has also helped created a clothing project which helps HIV research in Africa.


Interested in more? For additional pictures and to find out all about Jade's guilty pleasures and her secret to beautiful hair and skin, just read more.
What's your secret to beautiful hair and skin?
Hmm, for skin, I would say that it's important to always remove your makeup. Also, I exfoliate regularly and I love applying Shu Uemura skin masks. They are white and look like a tissue. You just put them on your face and relax — but they always scare my son. For hair, my secret is having a good hair dresser! Also, I use a hair pack occasionally, especially if I'm in the sun.
What's the one beauty product that you can't live without?
My panthenol moisturizer from Kiehl's. It's suited for dry skin, which makes it perfect for me.
Do you have a guilty pleasure?
I love a glass of red wine... or two.
Can you take me through your daily beauty routine?
I have a two year old child so I'm lucky if I can do anything while he's around. At least he's interested in my makeup. He loves putting on my lipstick, especially if it's red.