January Jones Makeup
How To: Get January Jones's Cocktail Chic Makeup Look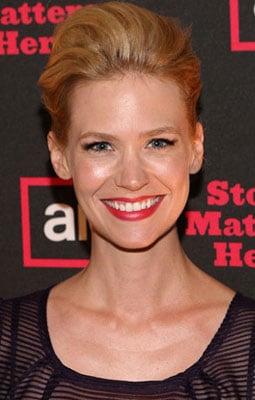 Last night at the TCA AMC cocktail reception in California, actress January Jones arrived in a cutesy black-bow frock with her hair styled in a chic coif and perfectly flawless makeup. January always looks amazing, but I like how her makeup isn't too overdone here. With some filler on her brows, a dewy base, a touch of black liner, mascara and finally a tomato red lipstick, this siren makes getting red carpet ready look as easy as pie!
Begin with a clean, well hydrated face and then apply a primer followed by a tinted moisturiser. Dab concealer under the eyes and around the nose and mouth. Blend with your ring finger and dust a loose mineral powder all over to set the look. Then, buff it out with a fluffy, dry brush so it doesn't appear to heavy.
Below are a few product suggestions you can use to help you re-create this look at home.
And for application tips for your eyes, cheeks and lips, just read more.


EYES: Since eyes and lips are the centrepiece for this look, you'll want to keep the shadow simple so that you can focus on the liner and your lashes. Dust a cream powder shadow all over the lid and then use a taupey brown in the crease for definition. Use a similar brown or dark blonde colour to fill in your browns and then use a brush to ensure they are blended. Next, curl your lashes and apply one coat of black mascara. Then, using a liquid or felt-tip liner, begin to line your upper lashes at the base extending and thickening the line past the outer corners of your eyes. Follow with a touch of liner on your lower lashes, but be careful to keep it light. Next, apply false lash pieces to the outer corners of your eyes and finish with another coat of mascara.
CHEEKS: Blend a liquid luminizer to the tops of your cheekbones, on the bridge of your nose and to the center of your forehead. Then, apply a touch of baby pink blusher to the apples of your cheeks and add a hint of bronzer to your temples, chin and nose if you feel you're looking too pale or too pink.
LIPS: Lastly, line lips with red lipliner and fill them in. Blot with a tissue so that the colour isn't too deep and then using a lip brush, apply your sexy red lipstick all over. You can use a clear gloss on top if you wish, or leave the look creamy or matte. Go get 'em tiger!