Jennifer Aniston's London Fragrance Launch!
Jennifer Aniston's Sensational Fragrance Launch!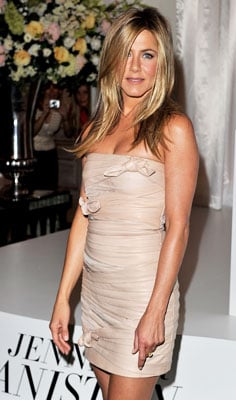 I got one! I actually got a bottle of Jennifer's new fragrance! I am so excited! Fans were queuing at Harrods from 11am today to catch a glimpse of Jen launching her new scent. Only the first 200 to buy a bottle got the chance to meet her and I was just in the nick of time at No. 195! (Phew.)
Jennifer arrived at 1pm looking stunning in a pale nude Valentino mini dress, which looked great against her glowing tan. She kept her hair and makeup simple, sporting a glossy blowdry, nude lips and a hint of blush.
I have to say, she seemed really lovely in person. She's more petite than I imagined with impossibly glossy hair. She asked how I was and then took care to create a beautiful signature on my bottle. What a sweet woman!
It took fans almost an hour to get to her, but Jennifer seemed to be loving talking to all the people. She was laughing and joking with everyone as they passed.
The fragrance is on sale exclusively at Harrods (£35) from today. Within hours of landing on shop floors this morning the first shipment had totally sold out. (So get scribbling on a waiting list if you want one too.)
I just got the bottle home and am loving it. It's more floral than I imagined but with light grassy undertones that give it a fresh edge. The bottle is beautifully designed, inspired by Jen's love of modern architecture, and has classic clean lines. It suits her image perfectly.
Are you excited about Jennifer Aniston's fragrance?