Jessie J, Gabriella Ellis, Crystal Humphries Dip-Dye Hair How To
3 Ways to Try the Dip-Dye Hair Craze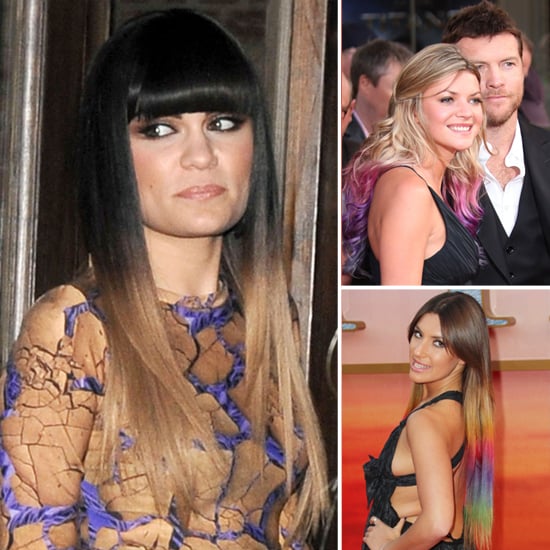 I spy with my little eye, a hair trend involving dip-dye. Last night in London, Jessie J debuted her new blonde-tipped tresses at i-create's Olympics drink launch party at Lounge Lover bar, while across town at the Wrath Of The Titans premiere at the BFI IMAX, Sam Worthington's partner, Crystal Humphries showed off her pink and purple hair-tips. Earlier this week, Made In Chelsea's Gabriella Ellis embraced a rainbow of shades at the Titanic 3D premiere.
Last Summer, a whole host of US stars sported the look, from Kate Bosworth's blue to Lauren Conrad's streaks, and now the sun's shining in the UK the style has hit our shores. Would you take the plunge? Here are three easy ways to try out the trend at home:
Clip-in hair extensions are the quickest and cheapest way to add colour to your barnet. These Love Clip-In Streaks (£5.95) are 16 inches long and come in a range of shades, from magenta to electric blue. Simply section your hair, lightly backcombing at the parting, and attach the clips. Then layer your natural hair over the extension and repeat.
Wigs are fun for a themed night out and enable you to test a new look before committing to a dye job. Make like Jessie J and don a faux head of hair, like these Annabelle's Dip-Dyed Wigs (£35) which come in lilac or pale pink.
Home dye kits can be used just for the ends of your hair rather than going the whole hog. Buy a home-lightening kit, pull on your protective gloves and grab the application brush. Put an old towel over your shoulders, divide your hair into sections and dab the mixture onto the ends, covering both sides. Follow the time instructions to get the desired strength of colour before washing off. If you don't want a permanent change, you could use a temporary product like Hair Flairs Colour Rub (£9.50) which wash out.
Tell me if you've experimented with this look, and share your favourite colour combinations!