Jo Malone Interview 2018
Jo Malone on Her "Warrior" Comeback in Fragrance and Going Back to Basics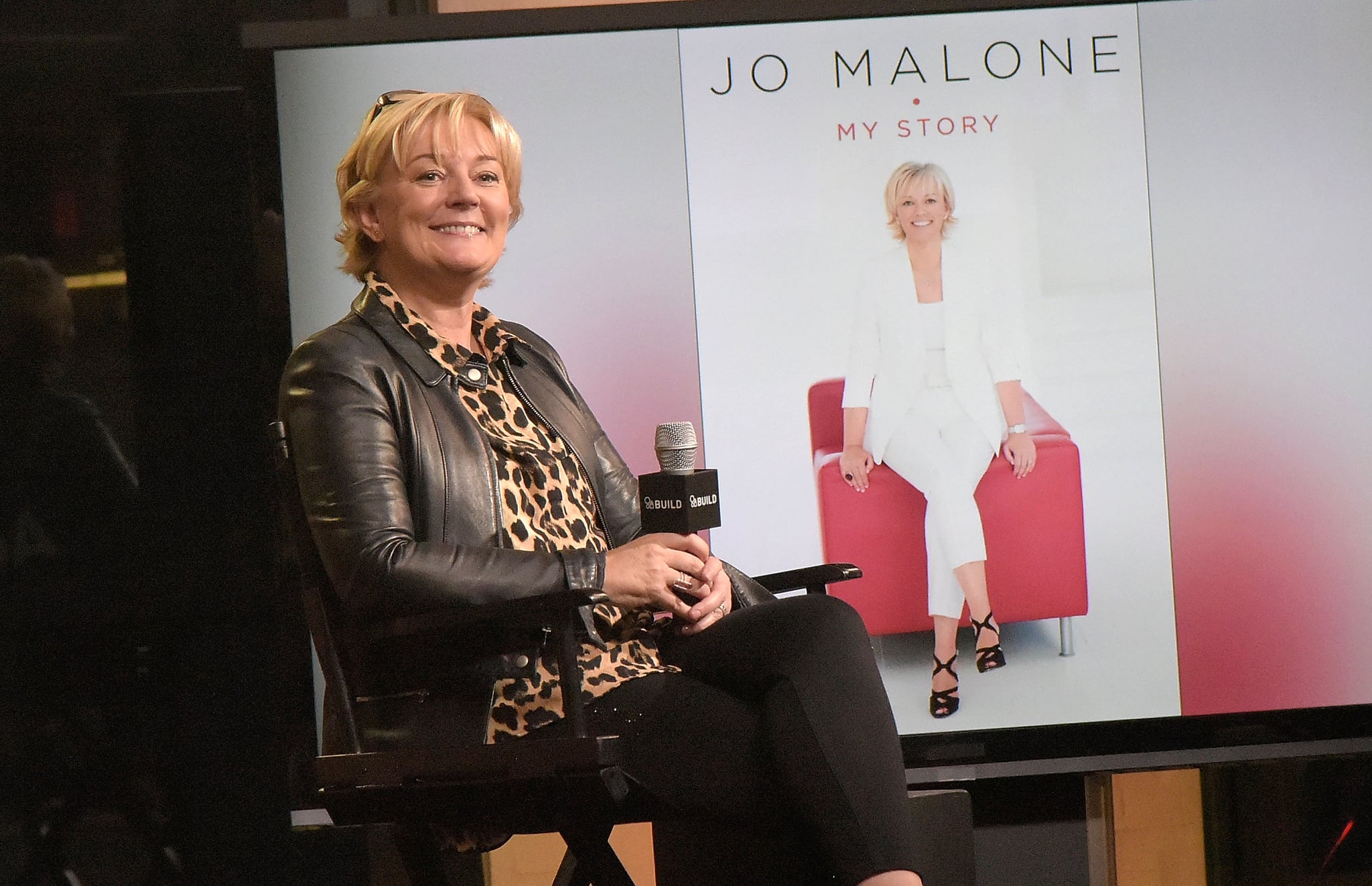 There's confidence, and then there's defiant confidence; the kind of rock-solid self-assurance that comes as a result of being put through the ringer and coming out stronger on the other side. Jo Malone, unofficial patron saint of the fragrance world and trailblazing entrepreneur, certainly possesses the latter.
Though Malone has spent 35 years (and counting) with her name at the forefront of the fragrance industry, that impressive span of time hasn't been without its trials. She made her official exit from the Jo Malone London brand in 2006, relinquishing full control of the company to cosmetics juggernaut Estée Lauder. Suddenly, Malone found herself facing a five-year hiatus from the fragrance industry as a result of a noncompete agreement, unable to participate in the world she'd dedicated much of her life to. When she was finally free to return in 2011, Malone jumped head first into her next endeavour: building an entirely new fragrance brand called Jo Loves. "It didn't take an entrepreneur to come back," Malone tells POPSUGAR. "It took a warrior."
From an outsider's perspective, it seems that Malone was battle-ready long before her career in fragrance began. Her struggle with dyslexia and a difficult home life (she's spoken openly about her father's gambling habits and her family's serious financial troubles) meant that Malone's childhood was far from idyllic. But despite those early hardships, Malone credits her upbringing, particularly her mother's work as a manicurist for Revlon, with instilling "an appreciation of creativity" that emanates through the work she produces today. We were able to chat with the fragrance maven, where she shared words of wisdom on creativity, trusting your gut, and the highs and lows of life as an entrepreneur.
POPSUGAR: When did you know you were interested in making a career out of fragrance?
Jo Malone: I didn't set out to make a career in fragrance. I'm very dyslexic, so my sense of smell is very predominant, and it's probably my main sense. I have something called synesthesia, which means my senses are slightly muddled, but I thought at a young age [that] everyone could smell like I could. And then as I got older I realised I actually had something pretty unique and pretty different. I could smell what no one else could smell, and I could create fragrance in my head and make it reality. I don't think you set out to create a global brand; that often happens in time. You just set out to survive in business, and then you set out and create something, and then the world follows you. I think that was very much my story and what has happened to me.
PS: The fragrance industry has changed in the 35 years since you launched Jo Malone London. Do you think today is a better or worse time to be a fragrance entrepreneur?
JM: I've been in the industry 35 years, you're correct, and I've been a shopkeeper for 25 years, so it's a big moment for me. Has the industry changed? Of course it has. Every industry changes in time. We add good things in it and bad things. It's a bit like politics — you get what you're given, and then you make it the very best that you possibly can. Distribution has changed phenomenally. Social media has changed the way we advertise a product, market a product, PR a product, and the influencers. But if you break everything back down to basics, which is always what I'm about, it's about a good product. It's about an authentic story, and it's about creativity. That for me is what fragrance is about. I don't want gimmicks.
If you look at Chanel and House of Guerlain, they are still so successful because they never moved far from the heartbeat of their founders. Look at Pat McGrath. You can see that woman's heartbeat through her brand. That is a very powerful, strong message. Stay true to who you are. There [are] lots that will come and go and earn millions and lose millions, but people that stand the test of time are the people that listen to the heartbeat of their brands.
PS: How would you describe the heartbeat of Jo Loves, and how does it differ from that of Jo Malone London?
JM: Jo Loves is about delving into my imagination and the "what if." The "what if" of What if I could change the way people make candles? or What if I could change the way the whole world wears fragrance with a paintbrush? Disruptors often walk a very lonely road for a bit, and suddenly the world goes, "That is really clever, and I like that, and I want to be a part of that movement." So [with Jo Loves], I'm going to challenge the way we do everything.

"You have to build something that makes you feel fulfilled as a human being. That's where true happiness comes from."
PS: How do you get your creative juices flowing when you are feeling less than inspired?
JM: Inspiration doesn't land on your doorstep. You have to work at it. You have to activate your imagination, and that's what I do. I might get inspired by other people's entrepreneurial journeys. When I read them, it makes me think, How can I do that? What can I do? I take different industries — everything from tech to interior — and I see how I can lock my world and their worlds together. What can I create out of a twist of those two worlds? That's how my mind thinks. I like to take two different worlds and collide them and create something. But I have to work incredibly hard every day.
PS: Aspiring beauty entrepreneurs look to your story for inspiration. What entrepreneurial advice would you share with them?
JM: I feel very honoured that other people look [to me] for inspiration. I think I'm a girl that had nothing but a dream and made it happen. And if I can do it, so can they. I never quit. And I'd say to never quit on a bad day. The reality of that is you never quit on a good day, either. Sit down and take the pieces of your business on the table. Look at the parts that are working and failing, and work it out like a puzzle. Normally, the solution to everything is there if you simplify it. The three ingredients that make an entrepreneur are passion, resilience, and creativity. If you can incorporate those three things into your business and make them the focal point, you will succeed. It doesn't mean that everyone's going to be a billionaire, but you will succeed. Ultimately, it's not just about being successful, it's about being happy. You can make billions and still not be happy. You have to build something that makes you feel fulfilled as a human being, because that's where true happiness comes from.
PS: What was the biggest entrepreneurial lesson you took away from running Jo Malone London that you applied to how you run Jo Loves?
JM: I learned to trust my instincts. I learned the "big boys" — as in, big corporations — don't have all the answers. When I grew up, I never heard the expression "indie brand." Now it's used all the time. Indie brands, your moment is now. Go make it happen. Don't overcomplicate things. The world needs to go back to simplicity and the heartbeat of what things are really about.
"I think of a girl that had nothing but a dream and made it happen. And if I can do it, so can they."
PS: Is there any singular achievement from your career that you are the most proud of?
JM: I've learned to be a warrior of retail and not quit. I felt I came back to this industry for a purpose. I hadn't known what the overarching purpose was, and I think I do now. I'm ready for that challenge. And not just for this business to be successful but to have the courage to go on a new journey. That's what Jo Loves is about — a new journey and a new adventure. This interview has been edited and condensed for clarity.