Jo Wood Everyday Organic range. Product review by BellaSugarUk.
Product Review: Jo Wood Everyday Organic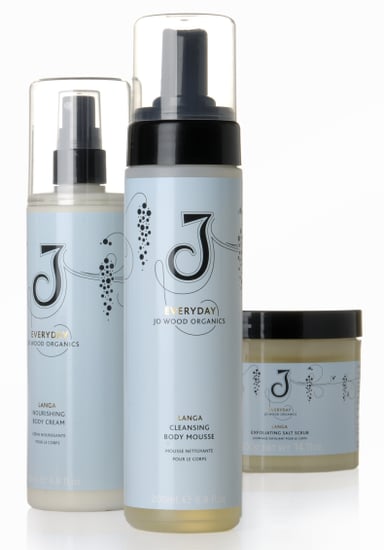 Ex model Jo Wood – wife of Rolling Stones guitarist Ronnie Wood, and mother to model, Leah Wood, whose nuptials caused quite a stir when Kate Moss turned up – has recently launched a new range of organic beauty products.
In an attempt to combine, the seemingly contradictory, concepts of glamour, rock 'n' roll and a healthy organic lifestyle – Jo successfully launched Jo Wood Organics in 2005, and has now turned her attention to the mainstream, with the accessible Everyday range.
I am always slightly dubious about celebrity-launched products, regardless of how tenuous the link to fame is, but I was actually impressed with this range. For why, just read more
Jo Wood Organics Everyday includes an Exfoliating Salt Scrub, Cleansing Body Mousse and Nourishing Body Cream in two fragrances – Tula and Langa, with products costing from £15.00 - £24.00. Not bargain basement, I know, but the bottles are big, (200ml), and I've been using the Tula Cleansing Body Mousse, (£15), everyday now for a month, and it's not even half empty yet.
The Tula Body Mousse has a gentle, subtle fragrance that is very feminine. It includes aloe vera and I didn't find it as drying as many body washes. Plus the smell and foam texture feel very decadent. The Langa Cleansing Body Mousse has the same texture, but includes oranges and Sicilian lemons to add some zing to your morning shower.
I found the body creams, (£24), a little too thin for my liking, though we all know how I love a super-thick cream. It did feel very nourishing though. The smell of the Langa cream was gorgeously fresh and natural smelling, though in an expensive way.
The creams claim to help restore elasticity to the skin and my skin did certainly feel more supple, as well as having a great sheen to it. The fragrances are slightly heady, but I quite like that. Plus, it's great to see organic ranges that have easy-to-apply consistencies and sophisticated packaging.
Perhaps organic glamour is not such an oxymoron after all?