Jordan aka Katie Price Launches HairCare Stylers in Superdrug. Would You Buy These? Photos.
Would You Buy Hair Stylers From Jordan?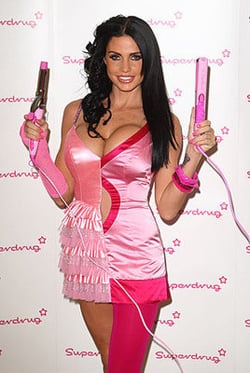 A pink-clad Jordan played on notions of her dual identity at the launch of her new electrical haircare range at Superdrug in London. To demonstrate both of the products (a straightening iron and a curling tong), she styled her hair super sleek on one side and curly on the other. I'm not sure if one side is supposed to represent Katie Price and the other, her alter ego glamour girl Jordan — what do you think?
I haven't tried the items yet, but apparently Katie has plans to release a new product every six weeks. You can expect shampoos and hair care products to complement the hair tools. I'm not sure if seeing Jordan using these products makes me want to by them, or just run in the opposite direction! Would you buy hair stylers from Jordan?
Mario Pietrangeli/Dean Cranston/Jessica Sethi/Ed Cooper/BigPicturesPhoto.com and Source