Kaeline, Face Oils, Face Oil
Product Review: Kaeline Argarome Soir
A couple of months ago I was introduced to an incredibly soothing skincare line called Kaeline. The products are organic and they all have a Moroccan argan oil base, which as you may not know, is a rich essential oil that contains the highest source of Vitamin E in the world. This is why argan oil has intense healing properties, and how it also helps prevent premature ageing.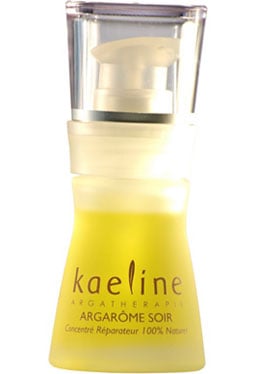 The product that I've been addicted to since September is called Kaeline Argarome Soir (£22) and is intended for problem skin. I know that some of you are still apprehensive to apply an oil to your face because you don't want to cause clogged pores and breakouts, however, I assure you that these oils are nourishing and soothing and are created to improve, not harm the skin.
Argarome Soir can be used alone, or under a cream and should be used in the evenings after skin has been thoroughly cleansed. It comes in a sweet little glass pump too which I find useful since all you need is one pump's worth of product for both your face and neck. Not only have I noticed that my skin is smoother, more even, less spotty and blotchy, but it also feels balanced and less fragile.
Do you have a special skincare product that you use at night?