Kate Moss Face Cream
Kate Moss Has A Face of Gold
Kate Moss is one of the top models in the world, if not one of the most recognizable faces in Britain, making a fortune off of her slim figure and unique look. So how does a lovely English rose keep her almond shaped eyes looking so supple and her wrinkles from taking their toll on her smooth skin? The answer is worth it's weight in gold — white gold to be exact!
Kate has just confessed to InStyle UK that she swears by INA Crystal's White Gold Day Moisture (£26.25). The anti-aeging cream contains white gold crystal salts, anti-oxidants, essentials oils and other goodness that helps protect the skin from pollution and DNA damage while also enhancing radiance and improving the overall tone and texture.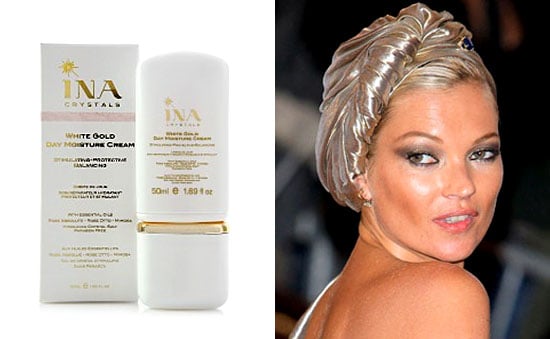 I've actually never even heard of the line until now, but apparently it has a celebrity following that includes Kylie Minogue, Sadie Frost, Sohie Dahl, Jude Law and Mark Ronson. I thought the price of gold was through the roof, so I'm pleasantly surprised to learn that the line is this moderately priced. What's the most you've ever spent on a face moisturiser?