Kate Moss and Gwyneth Paltrow's Celebrity Facialist Tips For Bright Eyes. Expert Beauty Tips
Anastasia Achilleos' Expert Tips For Bright Eyes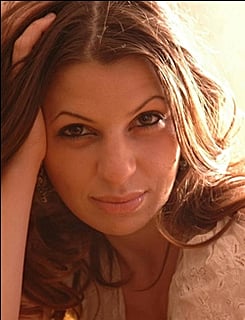 Celebrity facialist Anastasia Achilleos certainly knows a thing or two about making the most of your features. She has a wealth of celebrity clients, who are rumoured to include Kate Moss, Sadie Frost, Daisy Lowe and Gwyneth Paltrow.
In conjunction with the launch of Olay's fantastic Definity Eye Illuminator (£24.99), I spoke to Anastasia about some tips for keeping your eyes looking bright throughout the winter.
For her expert advice for making tired eyes look fresh and bright, just read more.


"Invest some time in making compresses for your eyes." suggests Anastasia. "Take some cotton wool discs, soak them in water and place in the fridge to cool for 20 minutes. Then apply a little Olay Definity Eye Illuminator around the eye area and place the pads over each eye, with eyes closed. Then lie down for 10 minutes whilst the effects of the coolness and the hydration of the product really gets to work."
"Before applying an eye cream or makeup spend a few minutes massaging the eye area." says Anastasia. "Sweep your fingers across your brow line until you reach the outer corner of both eyes. With your two middle fingers stretch the skin vertically to create a gap of approximately one inch and hold for five seconds. Continue the movement by sweeping two fingers beneath the eye socket to come back to the bridge of the nose." Repeat this three times.
"Use a brightening eye cream every morning and night to reduce the appearance of fine lines" adds Anastasia. "Dab small dots evenly around your eye area, under eyes, outer corners and eye lids and massage in gently."