Kate Moss Sells Lipstick Artist Self-Portrait in Lipstick Painting Sold. Photo.
Kate Moss is Lipstick Artist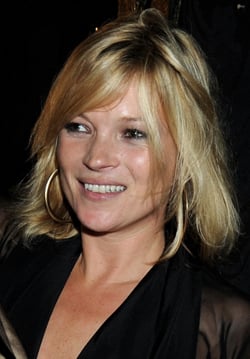 While Kate Moss has recently been sporting pink hair around London, this model isn't all about the partying. As well as designing collections for Topshop, being the face of Rimmel and launching her second fragrance this summer, Kate is now adding modern artist to her CV.
A self-portrait by the supermodel sold this weekend in London for £33,600 to a mystery buyer, after it failed to command £40,000 at auction. The piece was created by Kate using red lipstick while she was dating Pete Doherty. It features her lip prints as well as Pete's bloodstains. Pete has also written across the canvas "Who needs blood when you've got lipstick?"
Pete originally sold the portrait to an anonymous seller, who then placed it up for auction. An additional self-portrait by Doherty, signed in blood, was also put up for sale in the auction but a buyer could not be found.
Well that's one way to buy Kate's kisses I guess. I'm just left wondering which lipstick she used to create the image. What do you think of her art?
Source